The WiFi Upgrade project has upgraded 95% of the Access Points (APs) overall! Completed buildings on the Ann Arbor campus include all residence halls, the LSA building, three Aerospace Engineering Labs (Plasma Research, Propulsion, and Wind Tunnel), the Art Architecture Building, and more.
The remaining Ann Arbor buildings and remaining post-site surveys are currently being scheduled and are expected to be complete around mid- to late-May 2022.
Visit the Building Status page to see when the locations you visit and work in are scheduled to be upgraded.
Reminder
When teams are onsite to do the upgrade, a temporary WiFi outage lasting 10-30 minutes or less will occur in the area immediately surrounding where the work is being performed. As hardware is swapped out, upgraded wireless connectivity will return. Wired connections will not be interrupted.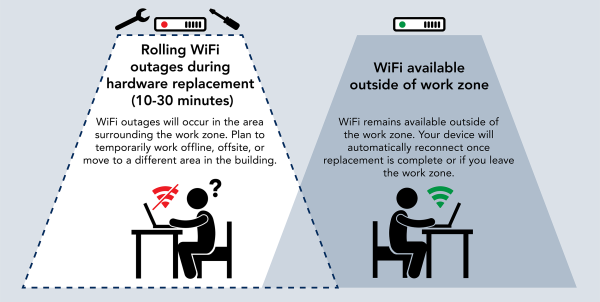 The upgrade project replaces existing AP hardware in more than 225 locations, including academic, administrative, and residence hall buildings, and outdoor areas. Additionally, UM-Dearborn is funding upgrades to indoor and outdoor Wi-Fi across its campus. Each building is typically upgraded in one day or less.
Learn more about the WiFi Upgrade Project.