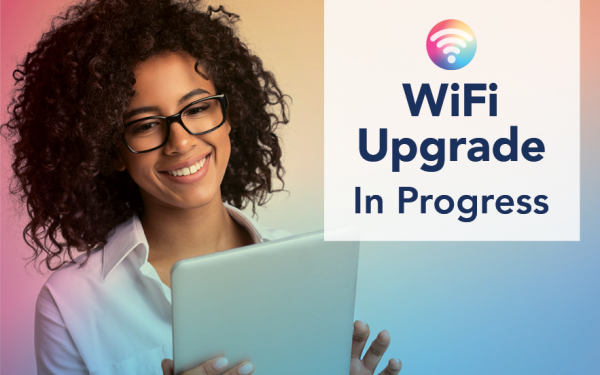 Wireless upgrades began this week on the Ann Arbor campus! The new WiFi 6E Access Point (AP) hardware recently arrived, and contractors began installing them in scheduled buildings on November 8. The project team is working to schedule and upgrade the 225 Ann Arbor campus locations and all Dearborn campus locations in the coming months.
The hardware installation phase of the project was significantly delayed due to the global chip shortage and ongoing supply chain disruptions. The team received a very limited number in late summer, but was unable to proceed further until more hardware was received.
While waiting for the hardware to arrive, the project team worked with the contractors to make the best use of time. The first step in the upgrade process, a pre-site survey, was completed for more than 95 percent of the APs due for replacement. The survey is necessary to benchmark the performance of the current network and an opportunity to identify building-specific upgrade considerations.
Thank you to everyone who has helped the project team along the way. Support from unit leadership, unit IT, and building facilities has been crucial in scheduling, preparing, and completing the work. If you have any questions about scheduling your unit's buildings, please contact ITS-WiFi-2021-Leads@umich.edu.
What to expect during building upgrades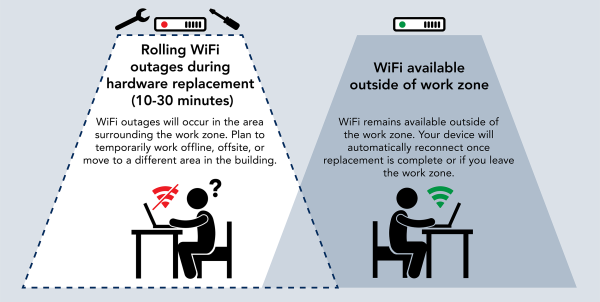 When teams are onsite to do the upgrade, a temporary WiFi outage lasting 10-30 minutes or less will occur in the area immediately surrounding where the work is being performed. As hardware is swapped out, upgraded wireless connectivity will return. Wired connections will not be interrupted.
Typically, buildings will be completed in a day or less. Larger or more complex buildings may take longer. Your building facility or IT team will communicate with building occupants. Typically digital signs or flyers will be posted during the upgrade.
Learn more about the WiFi Upgrade Project.