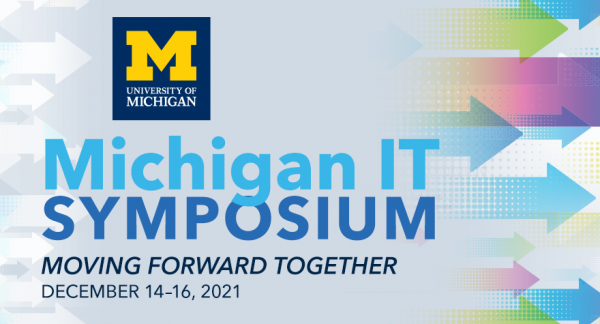 The 2021 Michigan IT Symposium will be held virtually December 14–16. The planning committee is accepting proposals for breakout and poster sessions through October 1.
The success of the 2020 symposium demonstrated a virtual event works. The response to last year's event was overwhelming. Attendance numbers were higher than they have ever been and participants responded positively to the new format and structure. The planning committee is building off this momentum to create an even richer experience this year.
Call for proposals – Moving Forward Together
The pandemic has led to different ways of working and collaborating, especially in IT. The Michigan IT community stepped up, tackled many challenges, and accomplished amazing things in this ever changing environment. The symposium looks to celebrate and share the innovations that have taken place across all of our campuses the past year as we keep the momentum moving forward together.
2021 submission categories
Proposals should be submitted within the standard subject areas of research, teaching & learning, precision health & patient care, knowledge, administration, or Diversity, Equity and Inclusion (DEI) and fit into one of the following categories.

Adapting to a rapidly changing environment
Projects and/or operational changes that have enhanced your services and systems
Strategies and projects on the horizon
Submit a proposal application by Friday, October 1.
Visit the 2021 Michigan IT Symposium website for full details.
About the Michigan IT Symposium
The annual Michigan IT Symposium provides three days of interactive, virtual sessions to create connections between community members and dig deeper into more technical topics, while showcasing the innovation occurring across all four U-M campuses. The event is composed of multiple types of interactions, including plenary and breakout events and poster sessions. It is open to all University of Michigan IT and technology professionals and advocates.
The co-chairs for the 2021 Michigan IT Symposium are Mandie Chapman, Data Coordination Manager for ITS Information Quest (IQ) and Dave Perhne, LSA MIS Business Intelligence Team Lead for LSA Technology Services.
The Michigan IT Symposium is sponsored by the office of the VPIT-CIO. The symposium is one of several activities organized by the Michigan IT Steering Committee to build community and encourage collaboration among U-M's 2,700 IT professionals. The 2021 Michigan IT Symposium will be the university's 8th event of this kind. See past events.