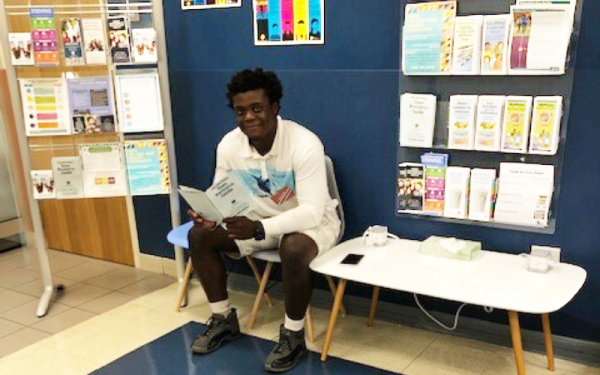 The Adolescent Health Initiative (AHI), a program of Community Health Services at Michigan Medicine, works to transform the health care landscape to optimize adolescent and young adult health and well-being. AHI provides customer-focused, youth-driven, and innovative approaches to improving adolescent care through coaching and technical assistance including engaging webinars, virtual clinic tours, implementing an assessment tool, and more.
The AHI team has been able to use IT services, such as Adobe Creative Cloud, Zoom, Amazon Web Services, and more, to create a number of tools to train adolescent health professionals, and most of the materials are available at no additional cost.
AHI is well-connected to the multi-disciplinary medical community, at U-M and nationally in 40 states, ranging in disciplines that include providers, behavioral health workers, social workers, nurses, dieticians, health administrators, health programmers, health educators, and sexual health professionals.
"Adolescents have health care needs that are different from those of other age groups. While adolescents have a wide range of diverse needs, AHI primarily focuses on mental health, sexual health, confidentiality, LGBTQ+ care, school-based health, cultural responsiveness, quality improvement, primary care, and clinical practices," said MavaMarie Cooper, AHI program coordinator and the Adolescent Champion Teen Advisory Council co-facilitator. "By improving the quality of care provided to adolescents, and IT helps us do that, we can close the many gaps they experience in care and improve their overall health and well-being."
Like many at the start of the pandemic, AHI quickly developed virtual coaching sessions to help health care professionals deliver care through virtual environments. Their goal was simple: help healthcare providers be more youth-friendly as they learn to work with technology to meet young people where they are.
Additionally in 2020, AHI worked with Health Information Technology and Services (HITS) to transition their Annual Connection Session to a virtual format, implementing quality improvement models across the country, resource and tool development, and hosting educational events.
"We support health care professionals in their growth around technology use, even if it is something they haven't always been comfortable with. IT has challenged them to use tools and language that make the most sense to the youth they serve," said Janine Driver, AHI marketing specialist.  
Sometimes technology itself is the barrier
Virtual appointments can lead to a decrease in engagement. The challenges can range from not knowing how to properly use technology to the difficulty in using the same body language to communicate when you are listening in a virtual environment for example eye contact, verbal cues, or sitting at the same level as the patient. Confidentiality can become an issue because there is no control over who is in the room and how information is being shared, and testing and screening can be much more difficult in a virtual environment, such as a blood draw or physical exam.
AHI has found that many young people don't have access to the internet, or spaces where they can access virtual care. "Relying too heavily on IT when many youth don't have access to it further exacerbates health disparities," said Cooper.
Not having the expertise to create a digital presence that resonates with young people. AHI is working with health care professionals, particularly those that work in clinics, who are often at full capacity and have limited resources. "They rarely have the support they need to create a digital presence that makes young people feel like they are welcome in that environment," said Driver. "For example, social media and website pages that speak to an adolescent audience can make young people feel more supported when they arrive at an appointment, but health care teams rarely have the capacity (in terms of staff hours and funding) to curate a digital presence."
AHI is looking for ways to be more innovative technology to create more adolescent-centered health care environments. Contact the team to start a collaboration, adolescenthealth@umich.edu.