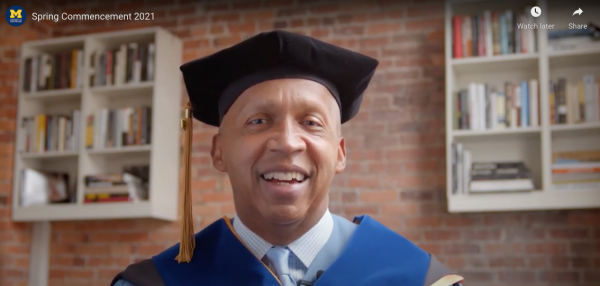 Commencement is always an exciting opportunity to celebrate the achievements of graduating U-M students. After the past year of extraordinary circumstances and unpredictable challenges, the Spring Commencement of 2021 was perhaps more meaningful than ever. To recognize the strength and perseverance graduating seniors displayed while finishing their degrees in the midst of the pandemic, Information and Technology Services (ITS) and other university departments worked together to guarantee that their graduation ceremony could be shared online and celebrated as widely as possible.
In preparation for the May 2, 2021, Spring Commencement, teams across the university collaborated to plan both in-person and virtual aspects of the ceremony. The Stamps School of Art and Design and ITS both played an important role in enabling many of those virtual aspects, including creating Zoom events, supporting involved websites, and providing internet to facilitate live streaming.
Stamps School of Art and Design virtual town hall and "Afterglow" events
During the planning phase, faculty and staff from the Stamps School of Art and Design discussed potential video conferencing platforms that could be used to host the school's two fully virtual events. The first was an online exhibition reception and gallery talk for graduating students who participated in the 2021 Stamps School Virtual Senior Exhibition; it included faculty- and student-led, media-specific breakout rooms. The second event was a post-commencement "Afterglow" informal Zoom meeting that featured games, time for individual thanks, speeches, and more.
Initially, faculty and staff expressed interest in using more open platforms such as gatherly.io and gather.town for the virtual events; however, they eventually chose Zoom for accessibility purposes in order to create the most inclusive experiences possible.
ITS commencement support
While planning for the university commencement ceremony, ITS's Web Hosting team worked with the University Development Events office (UDE) to identify and provide a content delivery network that improved the speed and resilience of UDE websites. The department also ran tests prior to the ceremony to proactively identify potential problems and then monitored web servers during the event.
To provide internet necessary to stream the ceremony on Facebook Live, the ITS department ran a 150 meter-long fiber optic patch cable out of the Fieldhouse network closet and across the parking lot to the hired production company's control station. This supplied wireless internet to the Fieldhouse parking lot, where the commencement ceremony was taking place, and enabled the Facebook Live stream with auto-captioning.
Together, these virtual pieces of the Spring Commencement made it possible to celebrate the class of 2021 in new ways. The in-person portion of the event was much smaller than most years, but students, friends, family, and the U-M community were invited to experience the ceremony at home through the livestream; videos featuring students, university leaders, other distinguished speakers, and even musical performances; as well as the exhibition and "Afterglow" events.
You can find a recording of the spring commencement on the university's Commencement website.