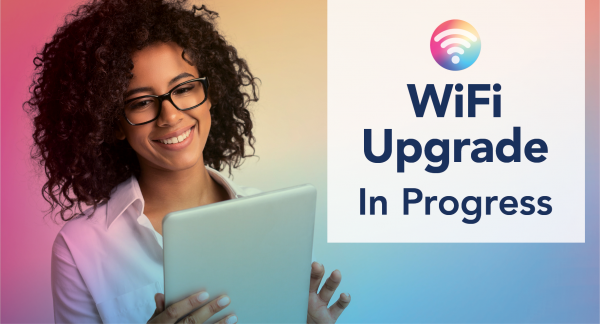 Starting this summer, U-M Information and Technology Services will upgrade the campus WiFi so that our network continues to meet our campus community's growing demand for fast and secure connections to support hybrid interactions for learning, teaching, research, and work.
With support from the President's Office, Provost's Office, and other key leaders, ITS secured capital funds to upgrade the UM-Ann Arbor WiFi experience in over 225 Ann Arbor campus buildings, including academic, administrative, and residence hall buildings. Additionally, UM-Dearborn provided additional funds to upgrade indoor and outdoor WiFi across their campus, as well.
The project will install new Access Points (APs) that support the WiFi 6E standard. This new hardware uses additional channels to reduce WiFi congestion in areas with a high density of devices, a capability that is critical to meeting WiFi demand in many of the buildings on campus. The Federal Communications Commission voted to approve the new channels for WiFi use in April 2020.
After the upgrade, the WiFi performance available will be up to five times the current speed. With the additional speed, most devices will no longer need to use a wired connection, allowing ITS to reduce the number of wired ports and reduce our electronic waste and carbon footprint.
The project will upgrade residential buildings as much as possible before the academic year starts, and will continue through the fall term with academic and administrative buildings following. This timeline provides the highest quality service to the largest number of people while also reducing security risks, minimizing university business disruptions, and reducing the total cost of installation.
The project team will work with building facility managers and IT leads to schedule upgrades and communicate the upgrade date and impacts to building occupants.

Visit the WiFi Upgrade Project website for the list of buildings scheduled for the upgrade and additional project information.