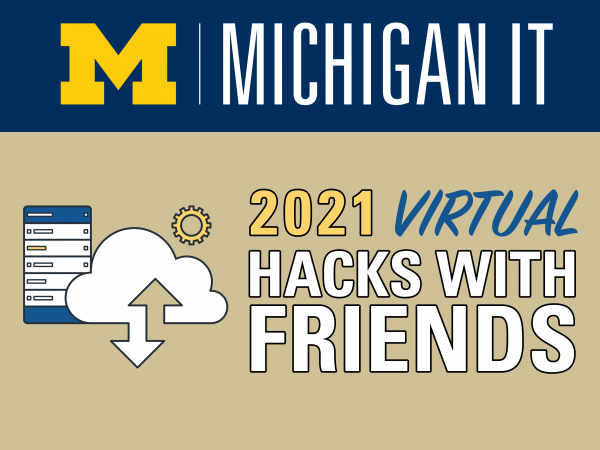 The 2021 virtual Hacks with Friends (HWF) begins this week! There is still time to register to participate! Break out of your everyday routine, join a team and collaborate to build a project (or hack) from scratch to show off in a competition! The 2021 HWF event will take place virtually over the course of the first three Fridays in May (May 7, 14, and 21).
HWF is open to any and all IT and technology professionals and advocates who work at the university, regardless of role. Pick up new skills, make new connections, and explore new technologies and innovative ways of providing IT services. Whatever skills or interests you bring to the table you are invited to join us and be a part of this "hackathon." The only limit is your imagination. Review the 2021 pitches for hacks to see which one sparks your interest and register.
Vote for your favorite hacks – 10:30 a.m., Friday, May 21
Not participating in creating a hack? Tune into a livesteam broadcast of each hack created during this year's event beginning at 10:30 a.m., Friday May 21. This will be the first reveal of what each team has created and will determine the top four teams who will go on to face our judges in the finals at 1 p.m. Viewers with U-M credentials will be able to register and vote for their top three hacks using our online voting platform. Voting will open after all the hack teams have given their three-minute presentations. Visit the Hacks with Friends website page for event information and links to the livestreamed hack presentations.