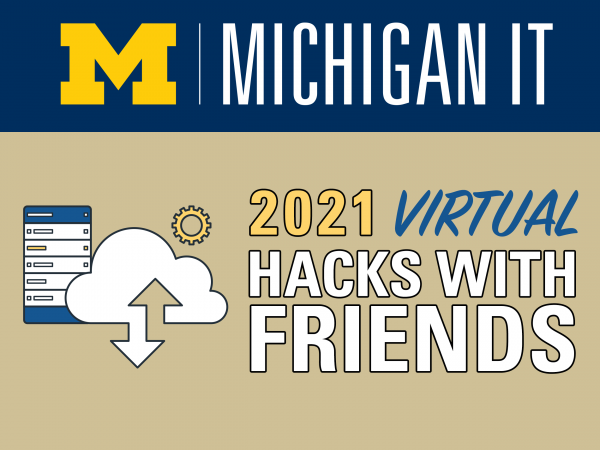 Register today and make plans to participate in the 2021 Hacks with Friends (HWF) — a fun-filled event where you break out of your everyday work, join a team and collaborate to build a project (or hack) from scratch to show off in a competition! The 2021 HWF event will take place virtually over the course of the first three Fridays in May (May 7, 14, and 21).
HWF is open to any and all IT and technology professionals and advocates who work at the university, regardless of role. Project managers, analysts, developers, UX designers, documentation specialists, designers, security specialists, trainers, desktop support specialists, cheerleaders or whoever else you are…We invite you to be a part of this "hackathon." Pick up new skills, make new connections, and explore new technologies and innovative ways of providing IT services. The only limit is your imagination.
Review the 2021 Pitches
The 2021 pitches for hacks are posted and ready for viewing. Take a look at what has been submitted and see which one sparks your interest. If you aren't sure which hack team to join, a pitch open house will take place Friday, April 23 via Zoom where you will have the opportunity to learn more about each idea.
Visit the Hacks with Friends website page for event information and keep an eye on your inbox for announcements concerning registration and the pitch open house.