The facility will accelerate future of advanced, more equitable robotics and mobility.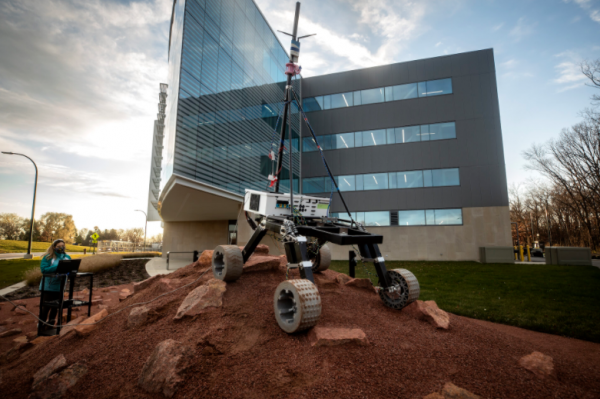 As robots and autonomous systems are poised to become part of our everyday lives, the University of Michigan and Ford Motor Co. are opening a one-of-a-kind facility where they'll develop robots and roboticists that help make lives better, keep people safer and build a more equitable society.
U-M's Ford Motor Company Robotics Building is a four-story, $75 million, 134,000-square-foot complex situated on North Campus. As the new hub of the U-M Robotics Institute, its first three floors hold custom U-M research labs for robots that fly, walk, roll and augment the human body—as well as classrooms, offices and makerspaces. Through a unique agreement, the fourth floor houses Ford's first robotics and mobility research lab on a university campus, as well as 100 Ford researchers and engineers.
The new facility brings together U-M researchers from 23 different buildings and ten Top 10 programs. With the new infrastructure, researchers working on two-legged disaster response robots can test them on a 30-mph treadmill studded with obstacles or on a stair-stepped "robot playground" designed with the help of artificial intelligence, for example. Biomedical engineers will have access to "earthquake platforms" with force-feedback plates to guide their development of lighter-weight, more stable prosthetic legs. And Ford engineers will explore how their upright Digit robots can work in human spaces, while taking autonomous vehicles from robotic computer simulations to on-road testing at U-M's world-class proving ground just down the road.
Advanced, more diverse and equitable robotics
Designed by HED, the building's architecture echoes the U-M Robotics Institute's boundary-breaking and inclusive spirit.
The lobby is a wide-open atrium surrounded by transparent glass-walled labs. It was designed with outreach in mind, so passersby and visitors can watch research happen in real time. Classrooms are set up for hybrid instruction, and that was planned even before the pandemic. U-M and Ford are working together to harness that feature, as well as a more inclusive curriculum, in a collaboration with Morehouse and Spelman colleges, two historically Black institutions in Atlanta. Students from those schools can enroll remotely in Robotics 101, a pilot course at U-M that doesn't require calculus and levels the playing field for students from lower-resource high schools that didn't offer advanced courses.