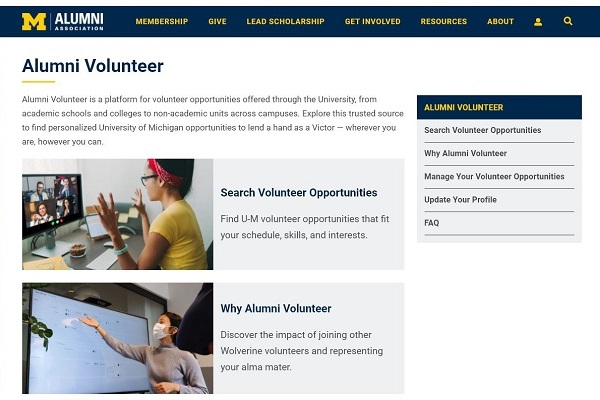 Vision
The Alumni Association recently introduced a Salesforce-based platform, Alumni Volunteer, which enables a new kind of volunteering experience for Wolverines who are ready to lend a hand. This project began with a vision to create a scalable digital infrastructure where all U-M schools, colleges, and units, regardless of their academic mission, can post volunteer opportunities for alumni, friends, and fans to explore.
Technology
Our technology discovery began with identifying success criteria, key user groups, and consumers of data from the platform. We took high-level process flows and user stories into account while evaluating potential platforms/vendors against priorities.
We selected a third-party vendor, HandsOn Connect, who offered an out-of-the-box solution with add-ons that are specifically designed for enterprise solutions that manage partners in a single database built in Salesforce. HandsOn Connect has developed a Salesforce database structure over the last 10-plus years to accommodate a myriad of volunteer experiences, ranging from single events with specific dates and times to open-ended, volunteer-driven schedules. The system also is able to distinguish between in-person and virtual opportunities, providing a way to find opportunities that fit volunteers' preferences.
We partnered with HandsOn Connect to build a Salesforce Lightning Community interface that mimics its existing .NET solution for both partners and volunteers. This approach has allowed us to leverage the vendor's experience and system architecture, while aligning our end-user experience with existing Alumni Association platforms. In addition, many of our campus partners are already Salesforce users (e.g., College of Engineering, UM-Flint), making the technology adoption easier for some.
Partnership
Due to the collaborative nature of this project, we formed an Alumni Volunteer Working Group consisting of partners across the three U-M campuses in 2019. The Office of University Development has been instrumental in providing timely feedback and guidance surrounding data governance, while the rest of the advisory group provided qualitative feedback and recommendations as we continued to work with our third-party vendor to build the technology.
We completed the platform in August 2020, and several units on campus moved into a pilot phase in the fall semester. We went into a full launch on Jan. 11, 2021, with 16 campus partners offering about 200 volunteer opportunities for alumni to lend a hand — virtually and in-person (when it's safe to do so). The full list of campus partners includes: Alumni Association, College of Engineering, Ross School of Business, College of LSA, Michigan Medicine, Poverty Solutions, University Career Center, Clements Library, School of Kinesiology, Maize & Blue Cupboard, School of Education, Center for Academic Innovation, Spectrum Center, UM-Flint, UM-Dearborn, and the LGBTQ Alumni Association.
Next steps
We expect the breadth and depth of volunteer opportunities will continue to grow as new partnerships are formed. If your U-M organization or unit has a volunteer opportunity or need, let us know by emailing alumni.volunteer@umich.edu.
Finally, Alumni Volunteer is a platform that connects alumni with volunteer opportunities, hosted by UM-affiliated groups, that honor their interdisciplinary expertise and general passion for volunteerism. When our alumni come together to lend a hand, the impact of our volunteer efforts reach every corner of our global Michigan communities. Are you a U-M alum and ready to lend a hand? Join us today!
---
The association's Tabetha Kolodzaike, application system solution lead, and Samantha Johnson, senior marketing manager, contributed to this story.