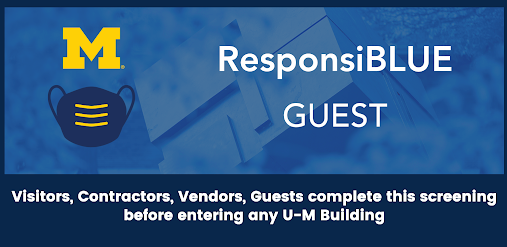 Information and Technology Services (ITS) has been overseeing the technical aspects of U-M's recent effort to implement the guest version of ResponsiBLUE, the health-screening tool developed to help keep the university healthy and reduce the spread of COVID-19.
The State of Michigan now requires all visitors, contractors and vendors through April 14, 2021, to complete a preliminary health screening before entering any university building on the Ann Arbor, Dearborn and Flint campuses, as well as at Michigan Medicine and satellite facilities. 
Guests who use ResponsiBLUE will be prompted to enter their name and email address when completing the screening as required by the Michigan Department of Labor and Economic Opportunity and Michigan Occupational Safety and Health Administration.
ITS will manage information collected by the screening tool in accordance with ResponsiBLUE Guest's privacy policy, which can be found on the ResponsiBLUE website. The ITS Service Center is available to answer technical-related questions for ResponsiBLUE and ResponsiBLUE Guest.
The day-to-day implementation of ResponsiBLUE Guest in individual units and departments is determined by the leadership of those areas. Information about using the tool should be directed to the Campus Maize & BluePrint website or by emailing responsiblue-support@umich.edu.
---
Lauren Love, U-M Public Affairs, contributed to this article.