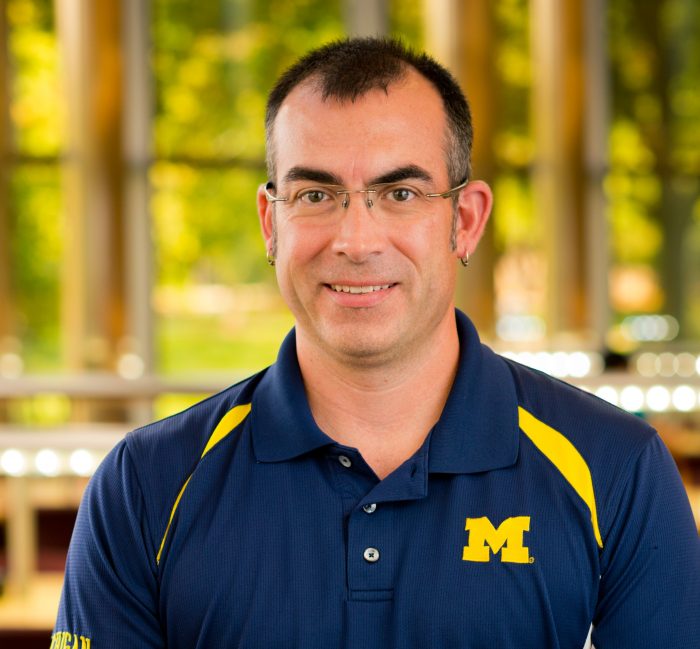 Jason Gooding is a long-time employee of Information Technology Services at UM-Flint. Currently overseeing Desktop Computer Services, Jason is also working to launch Esports on the Flint Campus. This interview will talk about how Jason's time at the university and in tech influenced his interests in Esports and some of what he has learned through his efforts.
Tell us about your role working in Desktop Computer Support.
I am a working manager. You can always find me out and about on campus servicing tickets and working with customers. I have two direct reports, Parker Schadegg and Erik Trantham. Together, the three of us support about 4,300 devices.
How did you get into this type of work?
When I was young I was always interested in electronics, to the point where I was always disassembling my toys to see what made them work. My family got our first computer, a TRS80, when I was fairly young and I was immediately hooked. Since then I have always been involved and interested in tech and kept advancing my skills.
Before joining the university I was a "jack of all trades." I have worked in 48 out of the 50 states in various areas including firefighter, DJ, K-12 education, and the disco club scene. I started at UM-Flint in Desktop Computer Services as a personal associate and worked my way up to my current position. During this time I was involved on campus in a number of ways. I coached a CrossFit class, taught a computer building course, and participated in a training program through the Freedom to Learn grant that put 1,000 laptops into Flint schools.
Across all that I have done, customer service and personal connection has always been an important aspect for me. The work I do now ties my passion for customer service to my love of technology, and it is a perfect meld.
What do you like best about your work? What has been your biggest challenge and success?
What I like best about my job is the personal or now remote interaction I get with the campus community. I am a problem solver, so having the opportunity to fix the daily technology puzzles that are thrown my way keeps me on my toes. One of my biggest challenges is working with my customers on campus to find the perfect level of technology that meets their needs without overwhelming them. Technology on campus can be a great tool for learning or it can be a huge roadblock if users do not understand how to use it, so finding the perfect balance is always a challenge.
How has going remote affected your work?
As I have been on campus pretty much since April, it has changed a ton. The face-to-face interaction is gone. Sure, we can Zoom or talk on the phone, but the personal connection still is missing. Working remotely has also made me think outside the box for problem solving—what might have taken a few minutes in person can now take an hour over the phone. On the other hand, my level of work production has increased as there are not the daily distractions from co-workers and the campus community.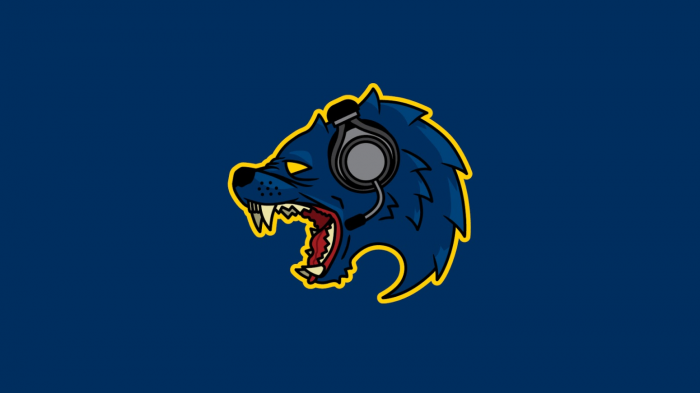 How did you get involved in launching Esports at UM-Flint? How has Esports been received at the school so far, by students, staff, and faculty?
I have been actively promoting Esports at UM-Flint for a little over two years. Gaming and building gaming systems has been a hobby of mine for forever. Years ago I started hosting winter break LAN parties for all Flint ITS employees in my basement, eventually moving it to an on-campus space when the event got too big. I started taking serious interest in Esports a few years ago when I saw a shift in the culture. Online competitive gaming wasn't just for the "nerdy" kids anymore. Eleven-year-olds were winning millions of dollars playing Fortnight. When I saw Las Vegas build dedicated Esports arenas, I had a "lightbulb" moment. The interest and the funding is there for Esports.
I began talking about the concept of launching Esports on campus in meetings and while running tickets. I also spoke to students and faculty to get an idea for the interest on campus. Many groups and departments were immediately interested and had ideas for how their disciplines could be used in the effort outside of just playing games. Esports on the UM-Flint campus will create opportunities for hands-on learning in areas like Communications, Design, Physical Therapy, and Education. This can be used as an opportunity for students in these areas that are looking to work in the realm of Esports once they graduate.
I feel like I may have gone about the process somewhat backwards. I had gained a lot of support and excitement for the project before seeking out approval, space, or a budget. But when I finally presented the idea to my director, we quickly got all three.
We were on track to have our dedicated Esports space up and running by the end of April. Unfortunately, due to restrictions related to COVID-19, we have had to shift to a completely online format. We have started a Discord channel with the students that have already signed up, and are actively promoting Esports at UM-Flint via Twitch and Twitter. We also have students involved that are interested in helping with promotions, social media, and streaming. We have recently been invited to participate in a tournament being put on by Wayne State.
What does success for Esports look like for you?
Success for Esports on the Flint campus includes being financially self-sufficient through retention of students and sponsorships from companies. It would include our students being successful or placing in tournaments. This would bring notoriety back to the Flint Campus and for that student. And lastly it would include getting support students involved outside of just playing the games to be able to give them real world experience in an area they are studying. If a student was able to move on from college and find a job in Esports using knowledge they obtained here, that would definitely be a success.
Do you have any recommendations for others trying to launch Esports?
I know for me, starting this was a huge learning curve. I knew the technology, the infrastructure and the gaming side of it. What I don't know was the student activities part of it, and that seems to be the one of the stumbling blocks for me. I've coached in every level, from preschool wrestling to division one collegiate gymnastics. I understand the sports side, but this is building a brand new program from the ground up. I am not the first one to find myself in this role, but the situation was very different from others I have spoken with. Often these programs start off in IT but this is not always the case. There is a lot of gray area around how these clubs/teams are structured. There are difficulties surrounding the distribution of prizes to students and how that relates to financial aid and many other things to consider.
With these hurdles in mind, looking back I would have reached out to leadership first and have the student organization aspects figured out before moving onto establishing the IT infrastructure or obtaining a space. I will also use Arbor Esports as an example of a very successful gaming club. UM-Ann Arbor is planning to take this existing club and transition it into their Esports program. If you have an existing club on campus and that level of support from the students, definitely use it. Going into the project with as much support as possible will make it that much easier to gain additional support and resources.