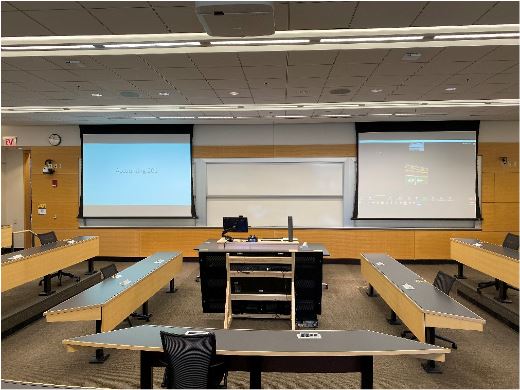 After supporting the move of students, faculty, and staff to remote learning and working, Ross IT developed plans for a "public health-informed" return to campus for the fall semester.
Ross IT engaged with the Ross community to prepare how to transform the classrooms to meet the hybrid academic requirements. The approach involved three principles for design: consistent, standardized, and reliable.
To create the best technical setup to meet the challenge of the hybrid learning environment became the number one goal. Ross IT embraced this challenge and has successfully developed 28 classrooms configured to deliver education in a hybrid model.
The Ross community created a committee made up of Ross IT, Ross Digital Education, Faculty Support, and faculty to design a hybrid environment, based on the guiding principles.
Each room is configured with a webcam on the podium, 80-inch confidence monitor on the floor in front of the podium, allowing the faculty member to see the Zoom gallery view, the participants, and chat while they teach. The audio system utilizes the in-ceiling microphones to enable the remote students and the in-class students to hear each other. Additional ceiling microphones were installed above the podiums to provide a greater focus on the faculty voice.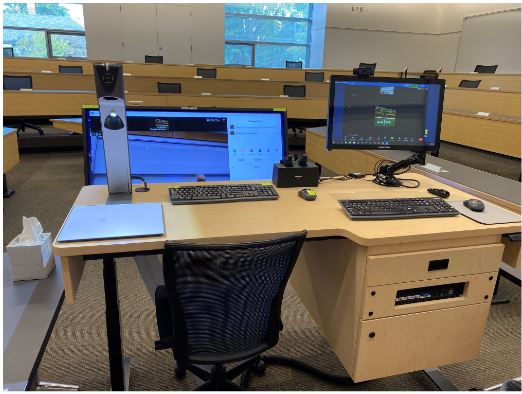 Then each Zoom setting was analyzed to create the best visual and audio experience possible. Ross IT and the Ross Digital Education team created a series of training videos and documentation to take each faculty member through a very particular sequence of steps to ensure a consistent experience throughout the rooms.
In total, Ross IT trained eighty-one faculty in group training sessions, conducted thirty one-on-one sessions, and five mock classroom setups before the semester started.
The school also wanted to provide spaces for the students to study, both noisy and quiet, so Ross IT made changes to the room reservation system to allow socially distanced seats to be reserved in three-hour blocks.
The past six months provided unexpected challenges and opportunities for all of us. By combining our team's resources and experiences, we could innovate new solutions and create a technically reliable and consistent classroom experience.