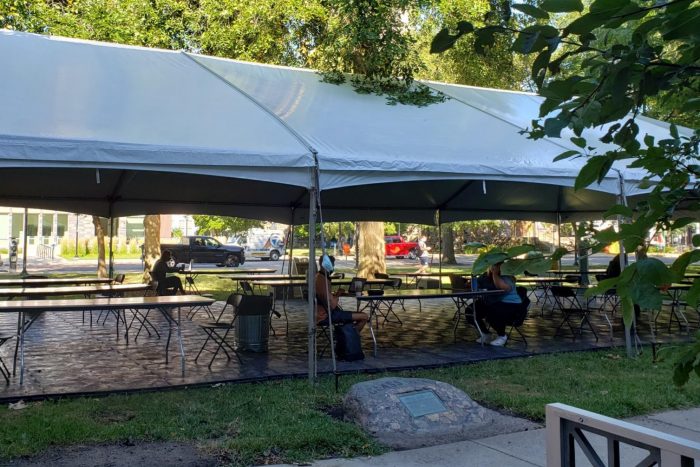 Dependence on the U-M Network has always been strong, but this term it will be used in locations, and ways not seen before. With COVID-19 concerns at a high level, the university has come up with creative ideas to assist our faculty and students, and decrease density in buildings, by creating new outdoor spaces for students to work and study, while social distancing.
In late August, ITS began work on providing WiFi to 13 newly constructed canopies (see University Record story) on the Ann Arbor campus. ITS teams went to work surveying locations, developing creative design solutions using existing indoor connections from adjacent facilities, partnering with units to authorize these solutions, gathering equipment, and deploying networking gear.
Following the completed installations, Ann Arbor experienced significant storms overnight on August 28, which took out several pieces of equipment not typically designed for outdoor use. Not to be deterred, the team spent the weekend troubleshooting and replacing equipment, allowing them to meet their goal of having MWireless back online in all 13 canopies when classes began on Monday, August 31.
Canopies are located outside: Stamps Auditorium, Walgreen Drama Center, Michigan Union (2), South Quad (2), Palmer Field, Diag, Ingalls Mall, Angell Hall, Duderstadt, Naval Architecture & Marine Engineering, and Weiser Hall. Visit the WiFi coverage map page, which includes outdoor WiFi locations on campus.