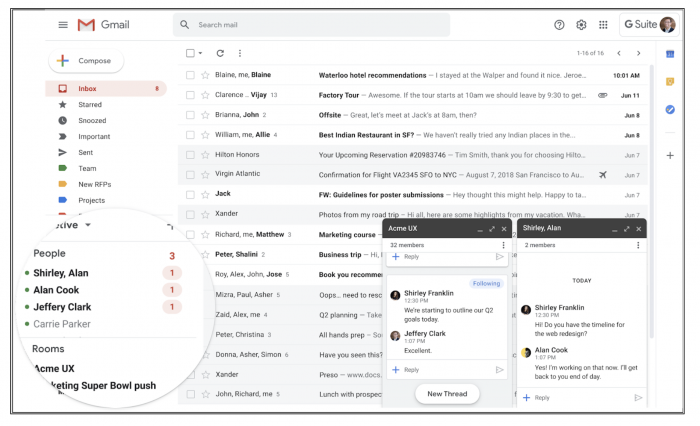 Google Chat will be replacing classic Google Hangouts in Gmail. Google Chat is an evolution of classic Hangouts, adding additional features that let you chat with individuals, send group messages, and engage in team-based collaboration with rooms across the entire university community and externally.
Starting July 15, 2020, Google Chat will become the default option for direct (one-to-one) messages, group messages, and team-based room discussions within Gmail. When this happens, all previous classic Hangouts desktop, mobile, and browser applications will be disabled, and you will be directed by Google to go to chat.google.com or to download the Google Chat mobile app.
What will happen to my classic Google Hangouts chats/messages?
All previous one-to-one message history from classic Hangouts will remain accessible in Google Chat. However, this does not include group messages.
If you wish to keep group messages between multiple people from classic Hangouts, you will need to manually create a new group message (for smaller, private conversations) or room (for larger, team-based work) in Chat and invite the previous participants. Unfortunately, content from group messages in classic Hangouts does not migrate to Google Chat.
According to Google, you will still be able to view your old classic Hangouts one-to-one and group messages at hangouts.google.com as read-only.
What should I do to prepare?
Visit chat.google.com to explore the new interface.
Re-create any existing classic Hangouts group messages that you wish to continue in Google Chat as a new group message or room.
On July 15, 2020, refresh your browser to get the new Google Chat in Gmail experience. Note: This experience may take up to 24 hours to appear for everyone at U-M. You will no longer be able to use or revert back to classic Hangouts.
For more information on Google Chat and its current limitations, see Getting Started with Google Chat.
For answers to commonly asked questions, see the U-M Google Chat FAQ.
To learn more about Google Chat, visit: