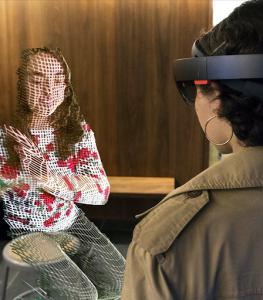 This week's MiXR Studios podcast explores how extended reality (XR) can be used in humanities to advance the University of Michigan's liberal arts mission.
Sara Blair, the Patricia S. Yeager Professor of English, discusses how she designed a course to frame the novel with a goal of immersion using virtual reality (VR) as the object of comparison. She brought together a diverse group of students from across campus to examine this new media and develop a critical perspective of experiences created in XR.
Blair discusses the journey she took to develop her course, "The Novel and Virtual Realities" and the types of technical challenges she faced throughout the semester, as well as the incredible support she received from U-M staff. She intentionally designed her course to spend half the time in a conventional seminar classroom and the other half in a VR lab. This hybrid approach allowed the group to create a space for critically informed dialogue comparing literary texts and XR experiences. Blair said this enabled a powerful exploration of perspectives across diverse media.
Read more at the full article.