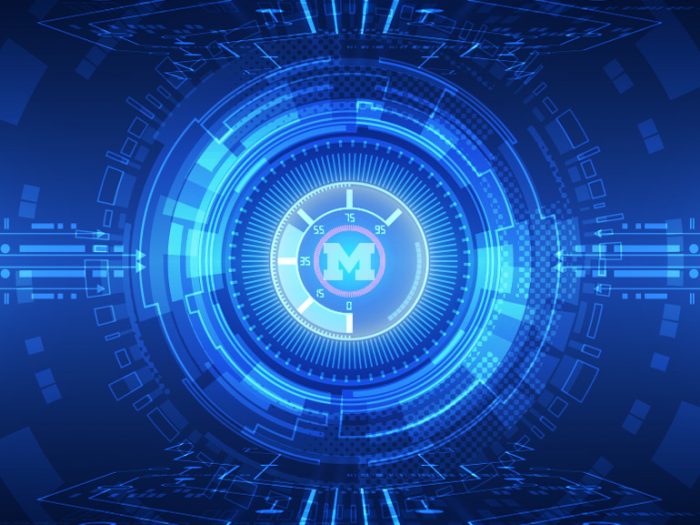 Fast. Efficient. Innovative. Responsive. All describe how Health Information Technology & Services (HITS) worked behind the scenes to make the immediate and necessary adjustments to accommodate the COVID-19 outbreak.
HITS instantly sprang into action to answer the call – literally. The Service Desk received nearly 16,600 calls and 4,000 chat requests between March 15-31, doubling their typical volume. Staff worked long hours (with more than 100 team members volunteering to help respond to service desk tickets) in order to fortify existing infrastructure, transfigure new systems, launch progressive user-friendly applications and dispense remote devices across the organization.
On-site on the hill
Early on, HITS teams were on the hill as trainers, network engineers, desktop support staff and audiovisual services providers, helping patient care and academic teams. Throughout the pandemic, many of these teams remained on the front-lines in order to continue supporting essential staff and patients. HITS also staffed the on-site data center to ensure infrastructure reliability.
Teams worked tirelessly to support the fluid inpatient capacity decisions and new patient care processes, including MiChart requests, countless inpatient unit modifications, consolidation of ambulatory clinic locations, activation of three new call centers, new and expanded telehealth capabilities, planning for a field hospital, and setup of the Regional Infectious Containment Unit (RICU) unit.
"HITS was outstanding in supporting the RICU activation and worked tirelessly," said Carolyn Cole-Brown, associate chief operating officer. "The RICU could not have opened on time without the outstanding work of the entire team."
Teams also moved quickly to provide data about hospital bed occupancy, lab test results, supply chain inventory and PPE burn rate to inform critical business decisions.
HITS has always been a 24/7 department, but most team members worked long hours beyond their regular shifts to support the pandemic response.
"It has been very busy with a lot of extra hours, but it was work that had to be done. We all chipped in," said desktop support specialist Shawn Chapman, who like other team members remains on-site as an essential worker to provide critical support.
Working hard to help you work from home
Following the state's "Stay Home, Stay Safe" executive order, thousands of Michigan Medicine employees suddenly needed to work remotely. HITS' solution: a drive-through service in the Arbor Lakes parking lot where team members delivered devices, such as laptops, and connected them to the network, all while employees waited in their cars. Nearly 700 laptops, 480 monitors and 200 headsets were distributed to employees and students.
HITS quickly scaled up services to meet record-setting remote work demands, including substantially increasing VPN capacity which now supports an average of 8,000 users per day (up from a few hundred before the pandemic) and rolling out the Zoom for Health video conferencing platform. HITS also enabled Remote Desktop Access, allowing users to remotely access files and applications; and introduced Windows Virtual Desktop, providing access to a streamlined set of tools and services (including MiChart) using any device any browser and without the need for VPN.
For added support, HITS created a Tech Guide to Working Remotely and launched a Virtual Assistant on the HITS Service Portal, designed to help customers "skip the wait" and find answers to many frequently asked questions. So far, the virtual agent has helped more than 500 customers and fielded over 4,000 telework questions since its launch on March 20.
Making remote research possible
Researchers across the organization also had immediate requests.
"Even though individuals had to leave the labs, research was still going on. We quickly shifted our focus on supporting research remotely, including access to high-performance computing and more ways to connect remotely," said Erin Dietrich, senior director of Academic IT. "Our new Windows Virtual Desktop service allowed researchers to access key Michigan Medicine resources while at home."
One important piece for enabling clinical trials was providing options for electronic patient consent. Due to HIPAA requirements, the team collaborated closely with vendors and the Office of the General Counsel to sign business agreements quickly, bringing e-sign patient consent forms online in about a week.
Stepping up technology at the medical school
Once U-M medical students were sent home to learn, faculty members started to think creatively on how to make the virtual education experience more meaningful.
HITS was there to support it all, from video conferencing and live virtual dialogue sessions to remote access for high-stakes exams, loaning equipment to students and even helping to create an online course on pandemics.
"The rapid move online for all classes at the medical school involved a tremendous partnership between our education program and HITS," said Brad Densen, director of medical student education.
No looking back: It's a new high-tech normal
COVID-19 triggered massive workloads for HITS, but it also encouraged rapid growth and innovation which will have a positive impact on the organization's future.
"We've moved the bar and there's no going back now," said Andrew Rosenberg, M.D., chief information officer for Michigan Medicine. "COVID-19 served as a strong catalyst for us. We were pushing for many of these advancements before the pandemic, but it took the urgency of this crisis to make it happen."
"We're entering a new normal, with increased reliance on virtual options for meetings, training, telehealth, academic offerings and customer support," Rosenberg said. "Technology and data will continue to drive institutional changes over the long-term. We believe that's a positive for everyone."
Questions? Contact the HITS Service Desk