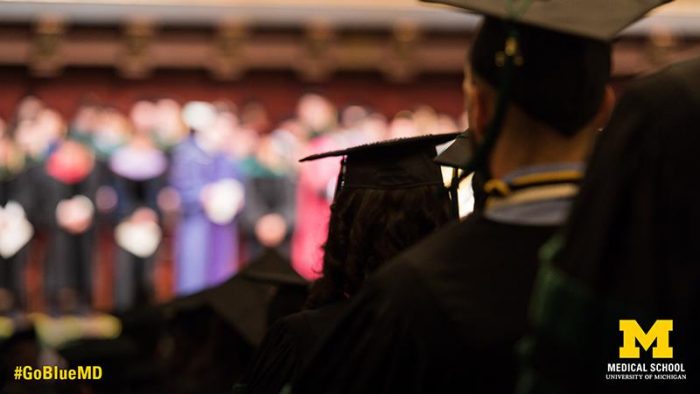 It is a rite of passage into their profession, but for 173 U-M medical students, this year's commencement ceremony was different due to the COVID-19 pandemic.
Instead of convening at Hill Auditorium to receive their diplomas and officially become doctors, members of the graduating Class of 2020 gathered with loved ones around their mobile phones, monitors, laptops and screens to participate in a virtual ceremony.
The festivities included remarks from U-M Regent Shauna Ryder Diggs, M.D.; President Mark S. Schlissel, M.D., Ph.D.; Interim Provost and Executive Vice President for Academic Affairs Susan M. Collins, Ph.D.; the honored speaker, Regina Benjamin, M.D., the 18th surgeon general of the United States; student speaker Josh Kurtz; and William Peterson, M.D., a faculty member chosen by the class as the Senior Award recipient.
In addition, university and medical school leadership guided graduates through many of the traditional segments of the ceremony, including an official reading of each student's name and recitation of the Hippocratic Oath.