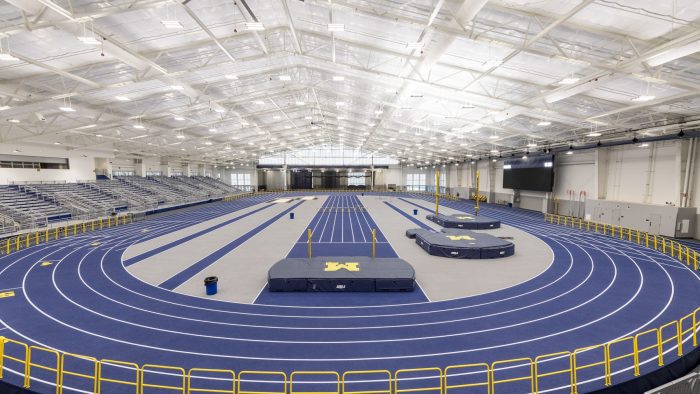 In March, as teams were determining how to continue operations remotely, Michigan IT's Audiovisual (AV) Technology community of practice united to support Michigan Medicine.
Like most, their meeting was virtual. The agenda: how the transition to online formats had been going. And as usual, it was a chance for AV experts across campus to share best practices.
But this was no usual campus—COVID-19 had changed the game.
During that call Rob Levitt, manager, audio and video services for Health Information Technology Services, realized how much support he had. And he would soon need it.
One of the CoP facilitators, John (aka "Jan") Stewart, lead academic technology strategist for the College of LSA, had the foresight to ask, "How can we support Michigan Medicine? They are operating at capacity." He told Levitt to let the group know if HITS needed AV equipment.
Answering the call
A couple of days later, Michigan Medicine began planning a temporary field hospital to support COVID-19 overflow patients at the university's indoor track on South State Street. At time of publishing, a decision has not been made about whether to open the facility.
The anticipated technology needs at that time included AV equipment, networked computers with monitors for each clinician, and a "command center" with many displays and views of outdoors security cameras.
That's when Levitt remembered Stewart's offer. "I sent an email to the AV community of practice: 'We need to start gearing up.'" said Levitt.
He sent out a spreadsheet with specific information, including model names of projectors and displays. Within 15 minutes, that spreadsheet was filled with AV CoP members who were willing to contribute.
People make the difference
While the need for the field hospital is evolving based on the volume of coronavirus patients, this experience demonstrates that relationships are being strengthened across Michigan IT.
Among the people who rose to the challenge:
Chris Goosman and Scott Currington from the HITS Audiovisual team. Both stepped in to get the equipment and software operational quickly.
Josh Fryd and the team at Athletics Facilities also supported the effort.
The ITS network team and Jason Miska from HITS partnered to transform the Athletic Performance Center on State St. from a campus network to a HITS network so it could be used in conjunction with PHI (HIPAA compliant).
LSA helped to ensure redundancy by providing replacement lenses for the Epson projector installed in the ceiling of the command center.
Chris Visel, at Michigan Ross, offered back-up monitors.
DPSS installed security cameras on the running track, which feed to displays in the command center.
"I was moved," said Levitt. "The outpouring of support and generosity from the community was overwhelming. It was really humbling and amazing to experience. It started with Jan saying we need to help. It touched me."