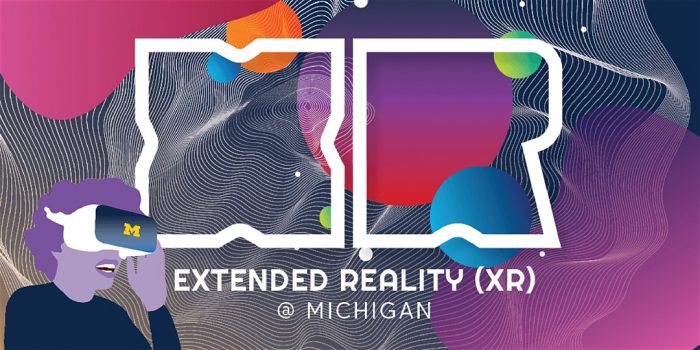 Join us on Tuesday, April 14 from 9:00 a.m. to 4:00 p.m. for the first ever Extended Reality (XR) at Michigan Summit. We'll welcome speakers from all over the country to share their knowledge and insight around XR. Please register if you plan to attend.  
The XR at Michigan Summit expects to feature the following:
Featured speakers who are national leaders in XR
An industry panel discussion featuring the future of XR
Panel discussion of featured XR Faculty from U-M
Presentation of U-M student XR work
Networking event
The Provost's XR at Michigan initiative will formally ask us to consider how we can leverage emerging XR technologies to strengthen the quality of a Michigan education, cultivate an interdisciplinary scholarly community of practice at Michigan, and enhance a nationwide network for academic innovation.  Learn more about the initiative on the XR initiative page. 
Want more XR? Check out XR at Disney, 9:30 – 11:30 a.m. March 27, Palmer Commons – Forum Hall (4th Floor). (More info and register.)