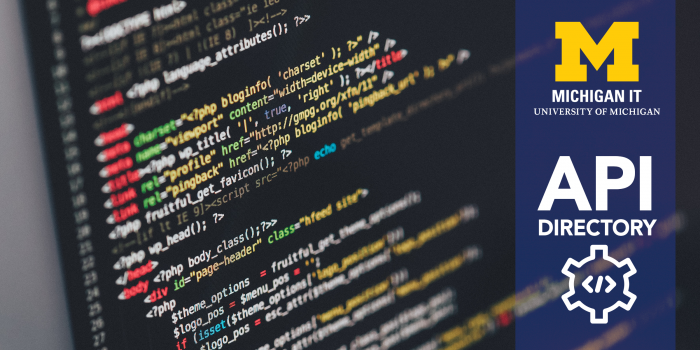 Information and Technology Services (ITS) worked over the past few months to improve the universitywide API Directory by expanding access to UM-Ann Arbor students. UM-Flint and UM-Dearborn students will soon also be able to access the API Directory.
APIs (Application Programming Interfaces) enable secure access to data assets and processes. They work like building blocks for app integration. The API Directory grants students, faculty, and staff access to the rich data repository available to application developers and researchers in the U-M community. It promotes best practices in security and provides re-usable business logic.
"We're very excited to move forward on expanding access to the API Directory to university students. There was a lot of demand for this and we look forward to the great work students will do with this data." — Kranthi Bandaru, API Directory service owner.
Students can access the API Directory for course work by requesting a new developer organization. When requesting access, students will need to state how they intend to use the API and provide the name of the faculty member who can confirm the access is for academic purposes. Students should ask the faculty member to provide their consent by emailing the API Directory team at apidir-contact@umich.edu.
Students who are granted access to the API Directory will maintain that access until their enrollment at the university ends. If their enrollment ends at the university, their access is automatically revoked and so are the applications that are created using the access. Students will be reminded about their access 15 days prior to the end of their enrollment.
Note: API Directory is only available while using a campus network or via U-M VPN. More information about using the API Directory, including step-by-step instructions, is available online.