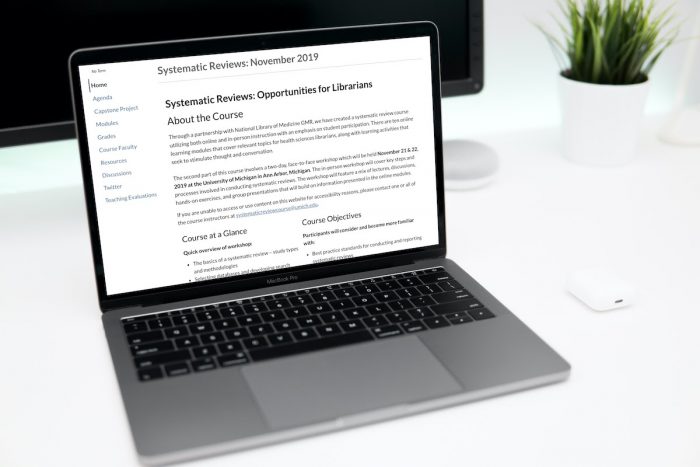 Beginning in 2013, the Taubman Health Sciences Library (THL) has offered a Systematic Reviews: Opportunities for Librarians hybrid course for librarians that includes both online and in-person content delivery. What started as a pilot in Google Sites has since exploded into a highly popular program with a long waiting list that has trained over 270 librarians.
A large part of the program's success can be attributed to the iterative improvements the course developers and managers made over the years to deliver a high-quality learning experience to attendees, regardless of where they are located.
Clear communications
"Communicating expectations for the online portion of the course is especially important."
— Emily Ginier
The first part of the two-week course is comprised of eight online learning modules along with learning activities. The second part involves a two-day, face-to-face workshop that takes place in Ann Arbor, as well as other locations in the U.S.
Over the years, the instructional team has learned a lot about how to effectively structure and deliver a hybrid course, according to Emily Ginier, an informationist at THL who is the project lead. The project team focuses on clear communications and also uses an end-of-course survey to identify areas for improvement.
"Communicating expectations for the online portion of the course is especially important," Ginier explains. "Because the course culminates in a two-day workshop, some participants were surprised that we had approximately four hours of online content. This aligns with the number of continuing education credit hours and has been better understood by participants since we added an explicit breakdown of the online coursework with time estimates. Previously, we provided the number of online modules and activities."
Adaptive technology
The team also overcame a number of technical challenges throughout the years by being open to adapting their approach and tools when appropriate. The online portion of the course, in particular, made significant changes and improvements over the years.
The pilot course was initially built using Google Sites because it provided easy access for most users and supported forms and narrative boxes for many of the associated activities. However, the interactive discussion functionality of Google Sites proved to be problematic. The course then migrated to PBWorks, as it allowed more flexibility for embedding content and media. The team used YouTube for hosting videos and integrated Google Analytics. But the platform had its own difficulties, like providing instructor feedback and holding online office hours.
"Finding the right tool to deliver our online curriculum has allowed the project team to focus on our content and connections with participants."
— Emily Ginier
Eventually, Canvas replaced CTools at U-M and that became an ideal solution for the course. Built specifically for online course content, Canvas enabled instructors to provide individual feedback, integrate multiple types of assignments, connect with participants via reflective discussion activities, integrate accessible videos with interactive captions, and embed external content.
The on-site workshops also adapted to a changing audience and technology environment.
Originally, participants had access to computers during their visit as the sessions took place in a computer lab. When sessions moved to the newly renovated Taubman Health Sciences Library, which no longer included a computer lab in the staff space, participants were asked to bring their own devices (BYOD). This aligned with the BYOD trend the instructional team was seeing elsewhere and proved successful, but added some complications: the team quickly learned that power strips were needed at all of the tables and to be ready to assist with WiFi questions or issues.
Files required for the in-person sessions were initially shared on flash drives. As other technologies shifted, files were eventually only made available via download. Again, this change was successful.
Lessons learned
The take-away for units that want to provide online or hybrid course offerings? Be clear in communicating expectations, solicit and integrate feedback, be technologically adaptable, and embrace new tools and processes when needed. It's a process that is working well for the many members of the Taubman Health Sciences Library who have been involved in the course over the years.
As Ginier shared, "Finding the right tool to deliver our online curriculum has allowed the project team to focus on our content and connections with participants—ultimately helping us achieve our vision of an engaging hybrid course."