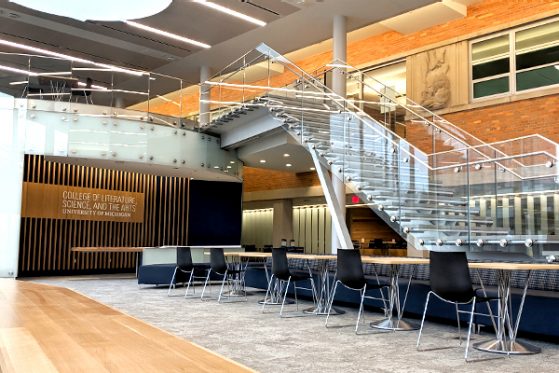 In January 2020, following a $35M four-year project, the LSA addition opened on the west side of the LSA building on State Street. LSA renovated 24,500 square feet on the first floor and constructed a 21,000 square foot addition to house the LSA Opportunity Hub, the LSA Internship Program, the first-ever LSA Transfer Student Center, optiMize, the LSA Scholarships Office, LSA Student Government, a 24-hour self-service market, and the Okun Bomba Navigation Desk. The new space provides LSA students with both collaboration and study areas, as well as a space to just "be."
LSA Technology Services played a big part in planning the multi-year project and designing and optimizing the operations of this space.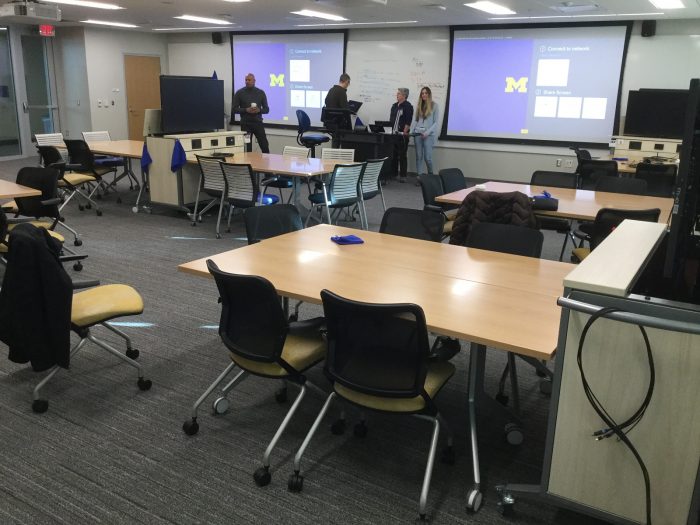 Our Infrastructure and Audio-Visual Engineering teams worked closely with UMNet for the wired and wireless network connectivity for computers, mobile devices, printers, and room schedulers. We added 11 network switches, 23 room schedulers, 60 wireless access points, and over 30 WolfVision screen-sharing units. We also integrated the fire alarm with the speaker system to disable non-alarm audio if the alarm sounds. We ensured these and other devices were on the private IP address space whenever possible for better security.
Our Academic Technology teams created a new 48-person team-based learning (TBL) classroom to meet instructional goals for medium-sized classes in which students can work in small groups and have more innovative active learning experiences. While LSA has larger TBL classrooms in the Biological Sciences Building, Chemistry Building, and Weiser Hall, smaller classes from a wide variety of fields across LSA are now able to be held in a TBL classroom.
This is a wonderful opportunity for us to be in the new heart of LSA to support our students!

— Cathy Curley, LSA CIO
In addition to their work on the TBL classroom, our Audio-Visual team designed and implemented the audio-visual systems in over 20 conference and huddle rooms.
Our Learning Technology Consulting and Support Services teams have been working with faculty to effectively teach with all of the teaching technology in the podium, writable walls, and student technology for each of the student groups. Instructors can annotate slides or PDFs and update charts and graphs in real time. "We want all faculty to know that they are available. They will do everything a tablet does and can be turned into a whiteboard. Economics and Physics use them to show graphs and make changes right on the screen," said Nicholas Hytinen, audio-visual integration installer for LSA Technology Services.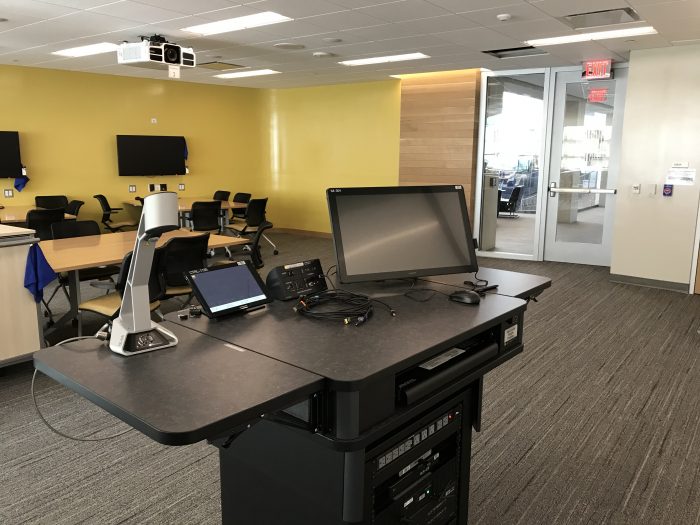 LSA Technology Services supports the ongoing operations of this space which includes audio visual equipment, coordinating the network infrastructure, providing audio and visual technologies to various events, computer support to the staff in this area, and running the Okun Bomba Navigation Desk (staffed 8 a.m.–10 p.m. weekdays, noon–6 p.m. Saturdays, and noon–10 p.m. Sundays) to help guide visitors and answer questions about the new space. We are also looking to extend some of our loan service capabilities so that students can reserve and check out equipment from this location, in addition to our Mason Hall and Modern Languages Building locations.
Brian Wang, president of LSA Student Government and LSA senior, is excited to have a space central to campus. "I think we're incredibly happy about this new building," Wang said. "We're glad it's open … Jumping into a new place really helps with coming up with new creative processes and ideas that we're really excited about."