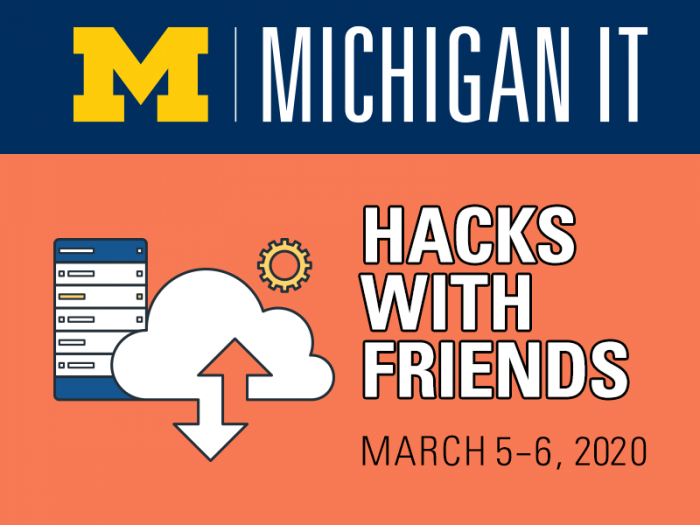 Register today for Hacks with Friends 2020—a fun-filled event where you have two days to break out of your confines, form a team, build a project (or hack) from scratch, and show it off in a competition!
The 2020 Hacks with Friends (HWF) will take place March 5–6 at the Ross School of Business. HWF is open to any and all IT and technology professionals and advocates who work at the university, regardless of role. Project managers, analysts, developers, UX designers, documentation specialists, designers, security specialists, trainers, desktop support specialists, cheerleaders or whoever else you are: We invite you to be a part of this "hackathon." Pick up new skills, make new connections, and explore new technologies and innovative ways of providing IT services. The only limit is your imagination.
Hacks with Friends is an evolution of an idea that began in 2013 with "MSIS Hack Day." The energy created from having a hack event for campus IT professionals grew. In the spring of 2015 an expanded Hacks with Friends event was tested with participants from ITS, MCIT, MSIS, and the School of Dentistry. The success of that event paved the way to open the invitation to the entire Michigan IT community. This year's Hacks with Friends is sponsored by the U-M Office of the Vice President for IT and CIO and made possible by the efforts of volunteers from across the Michigan IT community.
Do you have an idea for a hack? Pitches for hacks can be submitted online the week of February 10. You will need to briefly describe the concept, list out the skill sets you are looking for to be successful, create a short video (optional), and fit your pitch into one of the five 2020 HWF categories.
Parking: Concerns around adequate parking and transportation continue to increase as new buildings are added to the existing campus footprint.
Research Storage: Storage growth in the research community is at a pace never seen before. Big data, the need to fail fast when pushing the boundaries of a discipline, determining what storage options best suit existing need, and security, all impact resources, funding, and workflows.
Sustainability and Carbon Neutrality: Explore how U-M can reduce its carbon emissions to levels that are environmentally sustainable.
Diversity, Equity & Inclusion (DEI): Explore technological solutions to ensure that each member of the U-M community is given full opportunity to thrive.
Other: Your own original idea related to a specific discipline, the university, or its mission.
Visit the Hacks with Friends page for specific event pitch submission information.