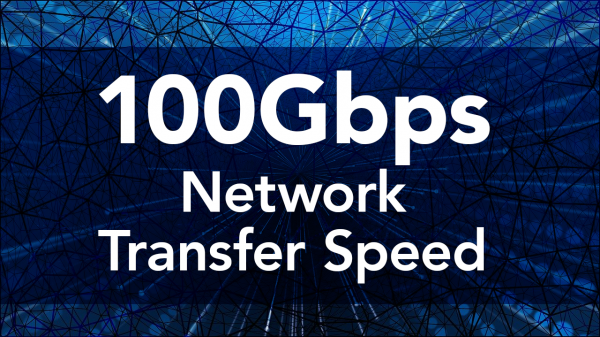 One hundred gigabits per second (Gbps) is the new standard for network speeds when transferring files from the Great Lakes high-performance computing cluster to the Turbo Research Storage service.
Why is this significant?
Usually network speeds for file transfers are 1Gbps. That's perfectly fine for most people's needs. But reaching speeds of 100Gbps represents a new, higher level of performance, specific to the ARC-TS ecosystem. This is especially valuable for research workloads that require fast access to massive quantities of data.
"We partnered closely with the ITS Infrastructure team to develop this suite of services to harness the power of research computing," said Brock Palen, director of Advanced Research Computing – Technology Services (ARC-TS).
"We developed this 'fast path' to remove bottlenecks, or avoid them altogether, so that researchers can work on their time, and not on the computer's time," Palen continued.
Eric Boyd, director of networks – ITS Infrastructure said, "ARC-TS services are the key driver for 100 gigabits per second services. Researchers, specifically those doing data-intensive science, are the key drivers for this level of network performance. ITS is currently working to extend this 100 Gbps capability to any building on campus that needs 100 Gbps. Likewise, we are planning ahead for 400 Gbps." 
"I'm pretty happy with the performance of the network. High-performance computing is essential to research, and the high speed at which the transfer happened will enhance and enable many types of research," said Palen.
For a more technical representation of the network speeds, this chart shows the ability for high-performance compute workloads to access data without network or storage acting as an impediment.

"We're proud to support research at the number one public research university in the country," said Boyd.
Learn more about high-performance computing and storage services available to researchers.