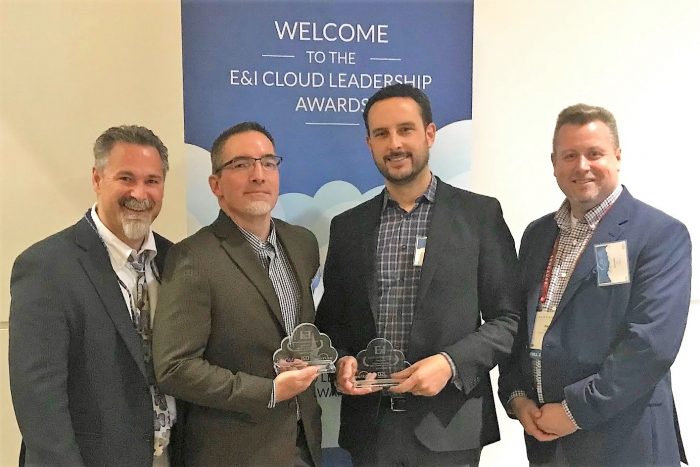 At this year's annual Educause conference in Chicago Oct. 14-17, the University of Michigan was honored with the E&I National Cloud Leadership Award for its lead role in the development and strategic guidance of the Unizin Data Platform (UDP). John Johnston, ITS program manager for analytics & data services, accepted the award on behalf of the university.
Johnston serves as U-M's technical liaison to the Unizin consortium and led the effort to build a highly secure, massively scalable, cloud-based infrastructure that commonly models data from multiple sources to make it more approachable to researchers and educators for the purpose of improving student success and advancing the learning sciences.
A spirit of innovation and collaboration
Keith Fowlkes, vice president for technology at E&I said the award goes to "the top project that embodies the spirit of innovation, vision, and promotion of cloud technologies in national higher education in the United States. He added, "I'm very proud to present the best overall winner for the 2019 national leadership award to the University of Michigan and their partners Unizin with their project the use of native cloud platforms to promote better learning experiences."
Etienne Pelaprat, chief technology officer for Unizin describes the collaboration in this way, "Our project–Leveraging the Unizin Data Platform to build My Learning Analytics–realizes a solution to the two key problems hindering advancement in personalized, data-informed learning experiences. First, it creates a comprehensive, complete, and consistent representation of learners, learning and environments in data (the Unizin Data Platform). Second, it demonstrates the generation and use of learning analytics based on comprehensive data, integrated into the student's learning experience."
Cloud-native, single-tenant architecture
The Unizin Data Platform (UDP) is a cloud-native, single-tenant architecture data platform that integrates teaching and learning data from across the tool ecosystem and serves it back to universities in a common set of data services. The UDP integrates behavioral data in the form of real-time event streams and context, or dimensional, data generated out of an operational data store. By transforming all data into a common data model, the UDP creates a common, standard foundation for data services that offer a 360-degree view of learners, learning processes, and learning environments.
Today, the Unizin Data Platform is used by nine Unizin member institutions, captures millions of records of data, and offers a handful of common data services. This enables all members to develop common services on common data infrastructure to build solutions to shared problems.
Personalized, data-informed learning
My Learning Analytics collects learning event streams and joins them with performance data to provide the students' visualizations that reflect their participation in the course in relation to their peers. For instance, students are provided a ranked view of the most popular course content and can then filter that content by performance level. Other capabilities include a learning activity timeline, assignment planning tool, and grade distribution visualization.
"My Learning Analytics (lovingly referred to as MyLA) aims to support metacognition and self-regulated learning through a suite of thoughtfully tailored visualizations," explains Johnston. "A key design principle of MyLA is that visualizations are presented inline with the students' normal learning workflows, where they are most impactful. In many ways, MyLA is the remedy to what research has suggested is the flawed approach of overwhelming students with data dashboards that are difficult to interpret and don't provide a clear path to improving learning behaviors."
This effort heavily leveraged the expertise of the U–M research faculty, including Stephanie Teasley and Matthew Kay in the School of Information and Stuart Karabenick in the School of Education. The design was informed by their body of research into the efficacy of student-facing data dashboards, student motivation, and self-regulated learning theory.