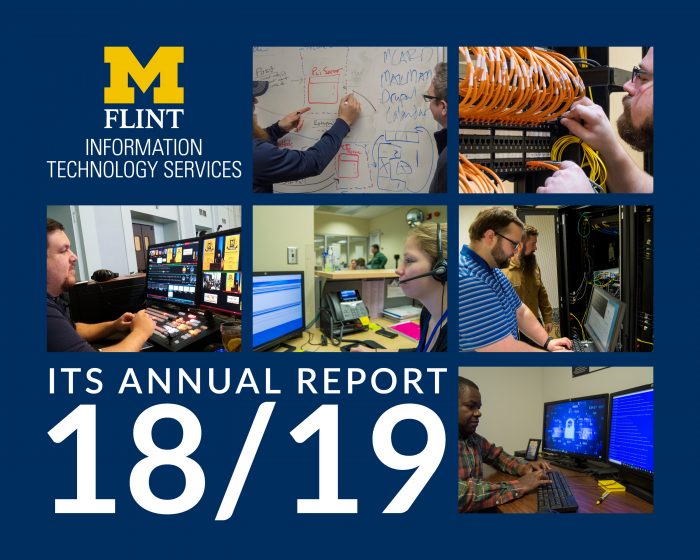 Flint Information Technology Services recently issued its annual report for FY19. (The entire report (PDF) is available online.) The report provides bios of ITS professional staff as well as updates on the organization's nine operational areas. Below are highlights of the report:
Classroom Services: A number of changes were made to loaner laptop carts including the purchase of new laptops and new managed laptop carts. Classroom services also continues to upgrade classrooms across campus and explore new classroom technology solutions.
Desktop Computer Services: To prepare for Windows 7 end of life, DCS has been configuring Windows 10 on all new equipment. In total, DCS is currently supporting over 4,800 campus devices.
ITS-Helpdesk: The ITS-Helpdesk has continued to offer support to faculty, staff, and students, answering 10,825 phone calls and resolving 11,435 individual Helpdesk tickets.
Network Engineers: The campus network is being continuously improved through upgrades to the campus fiber plant, and the installation of new network switches.
Project Management: Over the last year, project management was engaged in 34 defined projects totaling over $1 million dollars in value. The campus Google migration was the largest project by far.
Software Development: The newly formed Software Development group completed a number of new projects this year including the new social.umflint.edu and events.umflint.edu web portals.
Systems Administration: Along with the help of other groups, Systems Administration was instrumental to the completion of the campus Google migration. Systems worked to migrate all campus emails and create all new user accounts.
Google Migration Team: The Google Migration Team was formed to oversee the campus Google migration project and consisted of both full time staff from various ITS groups as well as part-time student workers "Google Guides."
ITS-Training: In addition to normal campus wide training efforts, ITS-Training worked to prepare faculty and staff for the campuses transition to Google services.