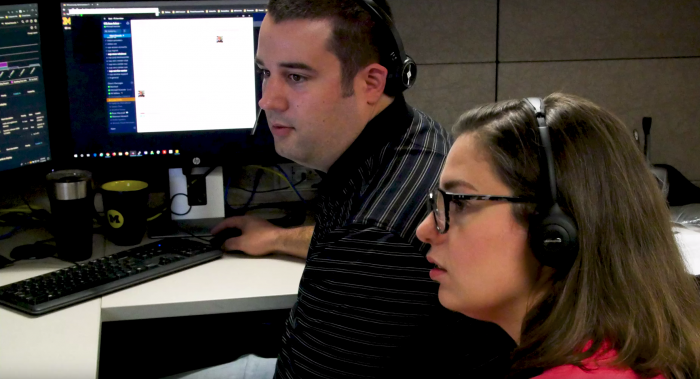 The Service Center (SC) RideAlong program started May 2018 and has since hosted almost 40 ITS staff members. Each four-hour ride along shift pairs a SC staff member with an ITS staffer who works outside of the center. The program builds awareness and appreciation among ITS staff members for the quality of the Service Center's work.
These experiences help staff members understand the scope and volume of issues the Service Center supports and the challenges the center faces. Bob Jones, executive director of support services, said his RideAlong was a humbling experience and helped him understand the professionalism and depth and breadth of knowledge of SC staff members.
ITS is building a stronger knowledge curation strategy to support the Service Center staff in their efforts to ensure customers can quickly return to their work. Currently, the ITS Knowledge Base functions more like a Wikipedia page than it does as a place for Service Center staff to find quick answers to customer questions. ITS is working to change that.
Mashon Allen, director of the ITS project management office, commented on the large amount of manual work the SC does that could be done more easily and efficiently. "We have a great opportunity to be intentional about building relationships and constructs between our services and our Service Center," Jones said. "They don't just want to know the answers to customers' questions, they want to understand why services exist, who the service supports, [and] why the service is of value."
Jones and Allen said better information about new or updated services means the Service Center can provide better service to customers. For example, improved knowledge articles authored by ITS staff can make the job of Service Center staff easier and more efficient by providing quick answers to common customer questions. The RideAlong sessions also inspire ideas for how ITS can automate some its processes.
Larry Chaffee, director of enterprise application services, believes ITS staff could learn a lot from the Service Center about how to treat and interact with customers. He was so impressed he said he would like to see its customer service training shared with all of ITS. "I was pleasantly surprised on how cordial and appreciative customers were in both phone and online conversations," Chaffee said. "Our Service Center staff helps immensely in making that a positive experience."