Sometimes timing is everything! This was the case when Student Life partnered with Information and Technology Services (ITS) on a data mapping proof-of-concept for its "Where is our Data?" initiative.
Back in April, a story in Michigan IT News updated the U-M community about the effort to better understand where our institutional data lives within ITS systems, how these systems are integrated, and how data is shared with and used by others on campus. As Eric Pinaud, director of Student Life Technology Solutions, read about this initiative and the accompanying "Vision for a data-informed decision making ecosystem at U-M," he was pleasantly surprised at how closely this vision aligned with the strategic goals to enable data-informed decisions at Student Life.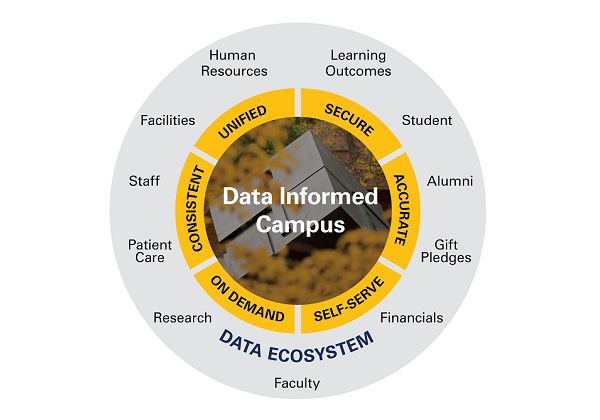 A partnership is born
At the time, ITS was looking for schools, colleges, and units at U-M that were interested in working together to carry this concept further, and to map how data from ITS enterprise systems is used at the unit level. Eric Pinaud reached out to the "Where is our Data?" project team and volunteered to partner with them to develop this mapping at Student Life.
Pinaud shared plans for upcoming changes to mission-critical systems in Michigan Dining and other areas of Student Life. Having this foundational information about system integrations and data flows would help inform their decisions on what they needed moving forward.
Update on progress
Working together, ITS and Student Life Technology Solutions staff have completed mapping diagrams of systems in Michigan Dining, as well as the meal plan, stored card value, and access controls system (CS Gold) used by Student Life. They have begun work on diagrams for Housing and Conference and Events, and are in the beginning stages of providing an integration inventory methodology to ensure that these data diagrams stay current as changes occur within each system.
According to Melissa Scott, senior information technology project manager for Student Life, "This project has been extremely valuable for us. ITS already had a framework to accomplish this through their work to map data for ITS enterprise systems, so not having to come up with that was a significant savings of time. Also, having the extra set of hands to get this work done helped us achieve good results in a very short period of time."
Unexpected benefits
Scott added: "There were also some benefits from this effort that we did not foresee. Bringing together our various teams with a neutral party helped us uncover knowledge gaps and silos that we did not realize existed. Through these team interactions, some of those silos are being torn down, and information is more readily available to everyone on the team."
Benefits for other campus units
Eric Pinaud believes that other schools, colleges, and units within the university could benefit from partnering with ITS and completing diagrams of their systems. ITS continues to look for additional volunteers to partner with on this initiative. If you have a strategic initiative that would benefit from this effort, reach out to the project team at its.whereisourdata.coreteam@umich.edu.