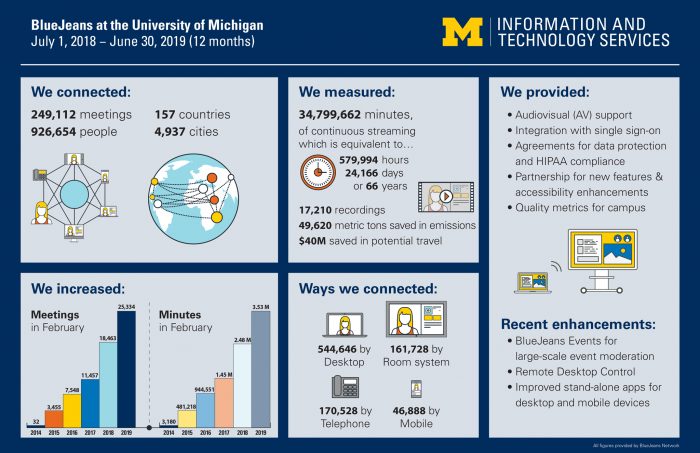 U-M collectively held almost a quarter of a million BlueJeans meetings in 12 months—about 37% more than the previous fiscal year.
There were also over 900,000 people using the service in the same time period, an increase of about 38% year-over-year.
"We are encouraged that BlueJeans usage across campus continues to grow over time," said Amy Peters, ITS assistant director of business services and BlueJeans service owner. "Every collaboration held in lieu of a face-to-face meeting saves our faculty, staff, and students valuable travel time and money. It also permits individuals who may not otherwise be able to attend in person to contribute their thoughts to teaching, learning, and research conversations."
Since BlueJeans was introduced to the U-M community in 2014—thanks to a consortium of seven units that were early adopters—campus has found creative ways to use the service to connect users anywhere, anytime, and from almost any device.
There is also an average increase of 67% in the number of BlueJeans meetings held during February from 2015–19. The number of meetings and total minutes is measured each February, generally a peak time of use during winter term (shown at bottom left of the infographic).
What's next for BlueJeans?
ITS continues to develop campuswide solutions to enhance the use of BlueJeans. The team is working directly with BlueJeans Network to bring new features to campus, including:
Breakout rooms that allow users to interact apart from the main meeting
YouTube video features
More to be announced