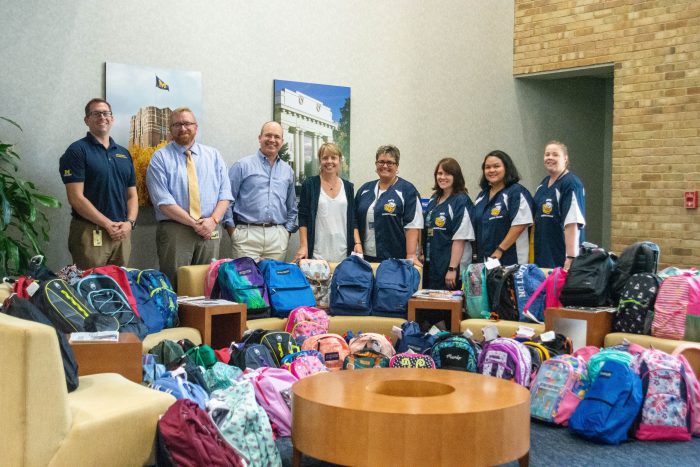 For several years, ITS has hosted a "backpack challenge" to deliver fully stocked backpacks to local organizations that serve families in the Ann Arbor/Ypsilanti area that struggle economically. Last year, for the first time, ITS invited their colleagues from HITS to a backpack challenge to see which group could raise the most supplies and cash.
The 2018 goal was donate 100 backpacks filled with school supplies. The challenge results far exceeded that, resulting in 160 fully loaded backpacks for local grade and middle school students. HITS also had an amazing first year with the Backpack Challenge, surpassing ITS in both the number of items donated and cash donations.
Can HITS hold their title in 2019 or will ITS mount a comeback?
This year, the goal is to collect over 200 FULLY STOCKED BACKPACKS to two local organizations: Peace Neighborhood Center and Journey of Faith. The competition will run through the weeks of July 29 and August 5. Supplies and cash will be tallied weekly, and regular competition updates will be provided to staff to keep the fun going.
Not a member of ITS or HITS but would like to participate? Shop remotely and have your items shipped directly to the challenge team of your choice:

And the winner is…
(Updated August 14)
We are pleased to announce that ITS and HITS successfully achieved their goal of donating 200 fully packed backpacks to two local organizations that serve children in the Ann Arbor area that have financial challenges:
Peace Neighborhood Center serves children and families in the Ann Arbor area.
Journey of Faith serves homeless children and families in the Ypsilanti area
Final tally for items and cash include:
ITS has donated ~$970 in school supplies and ~$1450 in cash donations
HITS has donated ~$1320  in school supplies and ~$1000 in cash donations
Thanks to the many staff members who donated items and funds. Special thanks to the ITS and HITS leadership teams, Ravi Pendse, and Andrew Rosenberg for their support of the friendly competition! Finally, a shout out to Linda McGuire (ITS) and Sue Boucher (HITS) for their coordination of this project!