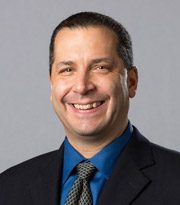 Sol Bermann, J.D. was named executive director of Information Assurance and chief information security officer (CISO) for the University of Michigan in June 2019. He served as U-M's interim chief information security officer during the 2014/15 and 2017/19 academic years.
Since joining the university in 2011, Bermann has served as the university's interim CISO, university privacy officer, and IT policy and compliance strategist. With his leadership, the university has enhanced its IT security posture by successfully launching Duo for all U-M faculty and staff, developing a higher-ed leading threat intelligence framework, implementing next generation information assurance technologies, and publishing the revised Information Security (SPG 601.27) policy and supporting IT standards. Among other efforts, he has provided strategic direction in how the institution engages cloud services; developed Privacy and Ethics Guiding Principles for Learning Analytics; coordinated multiple efforts related to securing sensitive research data and university data governance; and co-led efforts related to the EU General Data Protection Regulation (GDPR).
As CISO, Bermann works across the university's academic campuses and in partnership with Michigan Medicine to establish and maintain the university's information security program, while enabling an open and collaboration-rich academic environment.
"In this era of big data and data science, integrating security and privacy into the fabric of the work we do on a daily basis is more important than ever," said Ravi Pendse, U-M vice president for information technology and chief information officer. "With Sol's continued leadership and working as one Michigan IT family, I am confident that we will continue to make progress through collaborative partnerships to appropriately protect institutional and personal data in our open academic environment, all while enabling innovation and the U-M mission."
To learn more about information security and privacy at U-M visit: https://safecomputing.umich.edu/