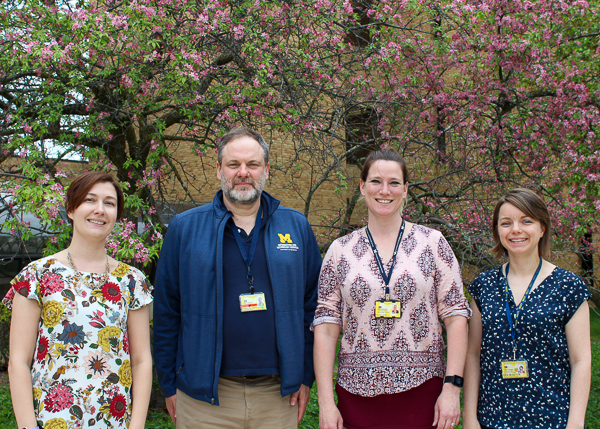 Sitting through job interviews can be nerve-wracking. Practice and preparation, though, can ease the stress of the experience. The Women in IT Community of Practice (WiTCoP) gave Michigan IT staff members a chance to strengthen their interview skills with a free workshop.
Stacey Zysk, a member of the WiTCOP planning team and the hiring and recruiting subcommittee, says all professionals should periodically update their resume and practice their interview skills. Hiring trends and expectations change over time, requiring professionals to reflect on their career accomplishments.
Debbie Gowan, one of the interview volunteers, says she hopes registrants walk away from this workshop with more confidence.
"I think it's a good idea to keep your interviewing skills current," Gowan says. "You don't want to wait until you see the posting for your dream job and realize that you're rusty and you don't have a way of brushing up on them in a hurry. It's a good idea for anyone to [practice] periodically, whether they're job searching or not."
Five key takeaways
"I" language: Move away from "we" language in interviews and highlight your projects and accomplishments.
STAR: To keep interview answers succinct, build stories around the situation, task, action, and result.
Develop soft skills: While technical skills are essential to landing an IT job, it is important to highlight soft skills, such as interpersonal communication, as well.
"Superwoman pose": Before interviews, look at yourself in the mirror and engage in positive self-talk, telling yourself you can do it.
Connect the dots: Show the ways in which your projects helped advance the goals or mission of the institution you worked for.
If you were not able to attend this workshop but would like to engage in career growth, Jennifer Herron, the CoP facilitator, suggests participating in the Michigan IT Mentor Program during the next sign-up round. The program matches mentors and mentees based on professional development goals and shared areas of interest.
The interview workshop is part of a long-standing WiTCoP tradition of providing professional development workshops. Women in IT has hosted workshops and discussions focused on resumes, salary negotiation, building a personal brand, and interviews.