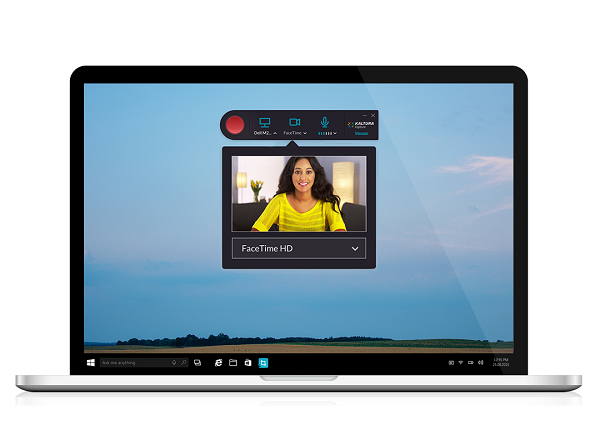 MiVideo is the university's streaming media service, powered by Kaltura, Inc., but did you know that it can be used to create media, too? Whether for flipped classroom course content, video assignment submissions in Canvas and Blackboard, or training demonstrations and presentations, MiVideo makes media creation fast and easy.
One way to create engaging, rich media experiences without specialized equipment or costly software is with Kaltura Personal Capture, a free software application for Windows and Mac and available to download from Canvas, Blackboard, or Mediaspace. Kaltura Personal Capture offers the ability to capture both screens and/or cameras in just one click. With PowerPoint presentations in presenter mode, Capture includes an automatic slide detection feature that generates metadata from slides and audio in the form of searchable text and chapters right in the player.
For those webcam-only videos, the Express Capture tool is even faster and easier. Also available in Canvas, Blackboard, and Mediaspace, this tool runs right inside WebRTC compliant browsers like Chrome and Firefox. There's no software to install. Just approve access to your camera and mic and you're ready to record, upload, caption, edit, and publish!
Links and Resources
To take these tools for a spin, just log in at www.mivideo.it.umich.edu or visit My Media in Canvas and Blackboard, then click on Add New.
Are you interested in Classroom lecture capture? Email us at 4help@umich.edu for a demonstration and pricing information.
To learn more about MiVideo, join us for the 4th Annual MiVideo Summit on the Ann Arbor campus June 21, 2019. Event and registration information or contact the ITS Service Center.