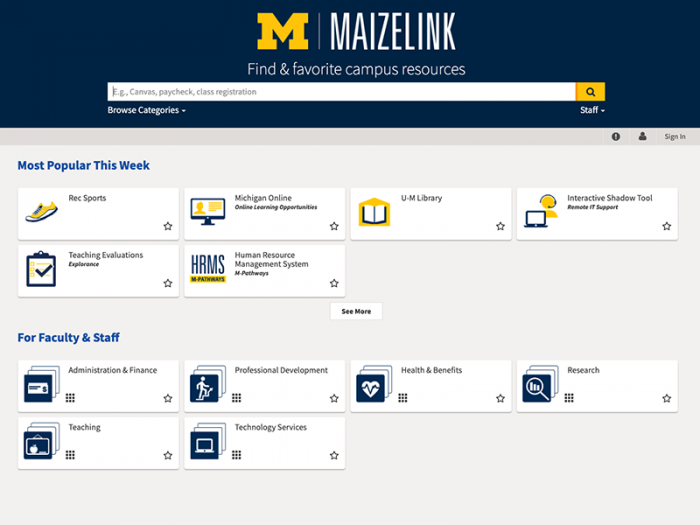 A new way to find and favorite university tools and resources
At U-M today, students, faculty and staff may need to access up to 10 different university run websites from phones, laptops or tablets on a daily basis. The U-M digital landscape is exploding with an ever increasing number of websites that students, faculty, and staff either need or want to interact with on a daily basis. This growth has happened at the expense of the user experience as individuals struggle to keep track of all the different tools and tasks or how to locate them. With so many different tools for different tasks it is hard to keep track of them all…until now.
Introducing MaizeLink
MaizeLink provides one place where students, faculty, and staff can get one-click access to the university tools and resources they need. Built on the OneCampus platform by rSmart, MaizeLink offers extensive benefits to individual users that go beyond what was previously available at U-M. When you log in, MaizeLink automatically detects your role from MCommunity and shows you content that is relevant to you. Your identity provides the access to the different university systems you have rights to all from one location. Customized links, starred favorites, and quick searches make navigating to sites within the Wolverine Access Gateway or Canvas much faster, dramatically eliminating the number of clicks to your intended destination.

Help us get the word out
ITS looks to continue to grow the number of people using MaizeLink and improve the capabilities of the tool based on user behavior and feedback. Please encourage your departments and the students you serve to use MaizeLink to access administrative systems and more. MaizeLink is creating a more cohesive digital experience across many units and departments. Discover how it can simplify the lives of people in your department and encourage them to let us know what they think by clicking the Send Feedback button at the bottom of the MaizeLink page.