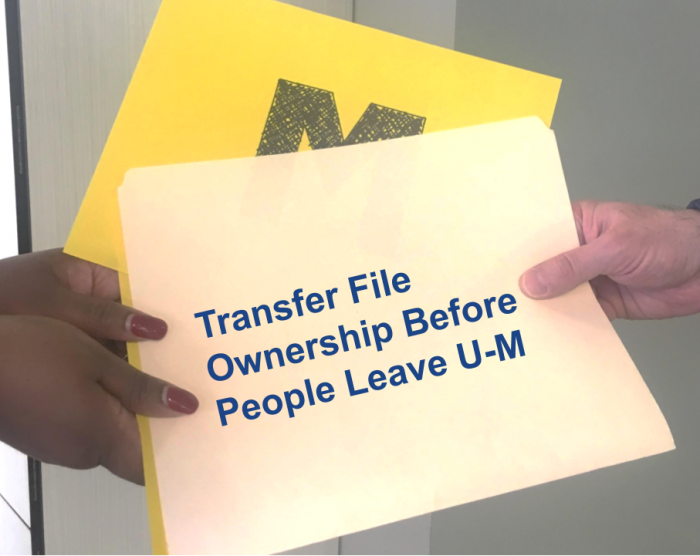 When U-M employees leave the university or transfer from one unit to another, it is important to transfer ownership of files, MCommunity groups, and other digital resources needed for university business. See these resources for tips and information:

Plan ahead to avoid disruptions and protect privacy

Supervisors should work with employees to make sure data is transferred prior to an employee leaving whenever possible. This helps avoid disruptions for U-M, and inconvenience for all involved.

It is also a good idea for departing employees to make sure they have taken their own personal data off any U-M system they will no longer have access to. Whenever possible, employees should keep any of their own personal data that is on a U-M system in folders marked "Personal and Private" to help the university respect their privacy.

What to do if something is missed
In cases where ownership of digital files and information is not transferred before an employee leaves the university, or when a U-M account holder becomes incapacitated or dies, there may be a compelling business or personal need for others to gain access.

Units can request access for U-M business reasons, and, in rare cases, people with a personal relationship to the account holder may wish to request access to personal materials held in a U-M account. The university may provide such access where reasonable and appropriate in accordance with university policy. Guidance is available at Getting Access to Someone Else's Account.