May 15, 2019 update: You can once again use the Call Me option to receive Duo phone calls to Chinese (+86) numbers for two-factor authentication. Automated phone calls for Duo two-factor authentication are no longer being blocked to Chinese (+86) numbers. Duo worked with one of its telephony providers and the Chinese government to resolve the issue.
China recently instituted regulations that block Duo two-factor authentication phone calls to phone numbers with the +86 Country Code. All other phone-based options continue to work in China, including:
Push notifications to the Duo Mobile app
Offline passcodes generated with the Duo Mobile app
Passcodes received via SMS text messaging
Duo has added a pop-up notification to its authentication screen to inform those who have added a +86 phone number to Duo about the situation.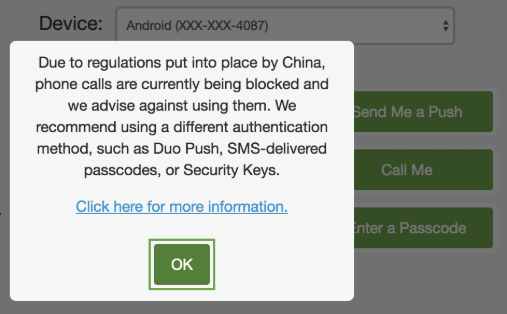 If you are planning to travel to China, you might want to consider getting a Duo hardware token or YubiKey free of charge from the U-M Computer Showcase.

For more detail and information about available options, see these resources: