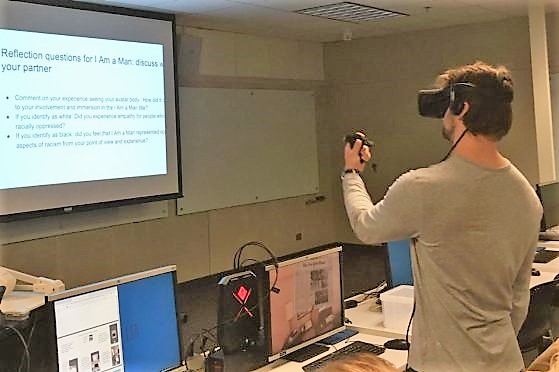 During the winter 2019 semester, LSA Technology Services partnered with Professor Lisa Nakamura to explore how virtual reality (VR) can be used for teaching and learning. Her course presented a challenging opportunity: What is the support model for a class incorporating a significant amount of time in virtual reality? The answer: a lot of effort and teamwork is necessary for a successful, large-scale VR project in an educational setting.
Nakamura wanted to integrate virtual reality assignments in her American Culture 358 course, "Special Topics in Digital Studies: Virtual Reality and Empathy." The course allows instructors and students to pursue core questions about identity, technology, and empathy in a new way: through the study and use of virtual reality. Her research question was, "Can virtual reality make us more empathetic and tolerant of people unlike us?"
Nakamura had three specific objectives LSA TS needed to support:
For students to experience a wide array of virtual reality titles (games) of different lengths and on different VR platforms
To know if a particular VR technology helped students feel more immersed in the experience
To include a digital "maker" experience (e.g., students build a 360-degree photo collage to help them think critically about virtual reality and its ability to increase empathy)
The project team from LSA TS included the manager of Emerging Technologies; support staff from BlueCorps (a student team that provides members of the LSA community with IT support while giving students on-the-job experience); a learning consultant; a research consultant; and instructional computing staff. LSA TS Patron Services developed circulation procedures for VR equipment, including usage documentation, recharging, and safety procedures.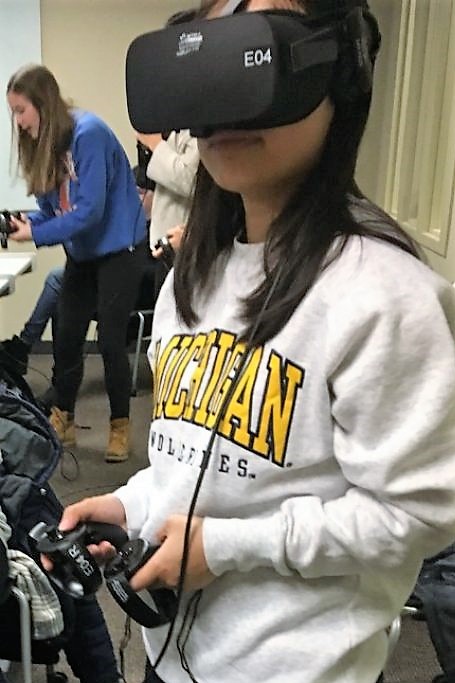 The team supported 20 students in a PC computer classroom equipped with six Oculus Rift Backpack machines with remotes and 22 Oculus Go headsets. The devices can be locked into the dock or released to enable someone to walk around.
The flexibility and cooperation of Professor Nakamura and her students while the support team navigated these new technologies and processes helped LSA Technology Services gain important insights that could be applied to similar classroom situations.
For example, they discovered a need to further assess the amount of equipment they have and how to make it available to students in an equitable and timely way. Also, the traditional technology support model evolved into a more involved partnership. Virtual reality is often seen as a solitary activity, but students initially needed help with putting on their head-mounted displays, configuring settings, and adjusting equipment.
And while students experience a virtual world behind the goggles, they actually become vulnerable in the real world. Their senses are somewhat cut off: they can't see or hear someone approaching, or have awareness of obstacles in their path. For this reason, the tech support team developed a system in which students worked in pairs and took turns spotting one another.
For team members, that was perhaps the most interesting result of this experience: within the context of developing empathy virtually, students displayed empathy "in real life" as they looked after each other's well being.
---
(LSA Technology Services' Joe Bauer, Teresa Horton, Peter Knoop, and Jan Stewart contributed to this article.)