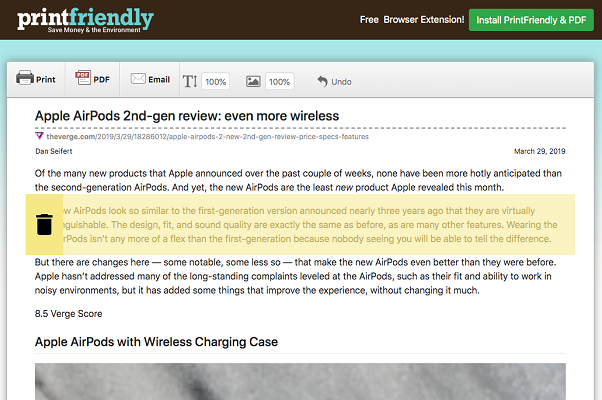 This month's tip is a simple, online tool that can be quite helpful if you would like to print a web page or download it as a PDF. Many websites include advertisements, menus, comments, and other items that may not be useful or relevant to your needs. Rather than printing/downloading the page in its entirety, this tool automatically removes some of the elements and enables you to click-to-delete any other unnecessary content.

After pasting the web page's URL, Print Friendly & PDF automatically removes ads and simplifies the formatting. It also provides an editable preview that enables you to manually remove and resize content before saving, printing, or sharing. For quicker access, a free browser extension is available which makes the tool only one click away.

I've tested similar tools over the years, but prefer Print Friendly & PDF because of its editing options. Many other services provide a stripped down version of the selected web page, but may miss some ads or may even delete some of the important content. The preview prevents these issues and outputs a well-formatted, easy-to-read document.

---
Have a cool app, tool, or tech tip you'd like to share? Contact Chase Masters. Please note that Tech Tips are personal recommendations and might not be officially endorsed or supported by U-M.