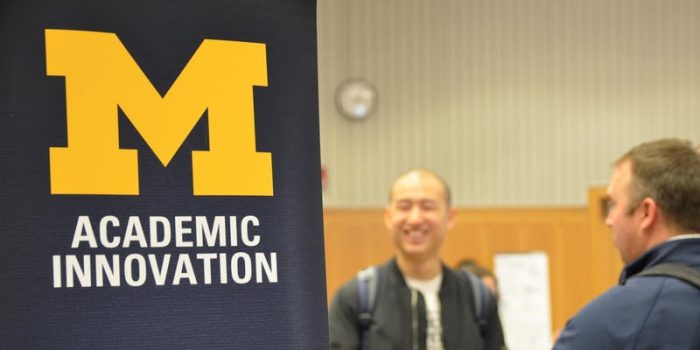 The Office of Academic Innovation has released a call for proposals for the Academic Innovation Fund, specifically geared to support projects focused on diversity, equity, and inclusion.
In each of its three areas of focus, Academic Innovation believes there are opportunities to increase access to the scholarship, learning experiences, and technologies created at U-M.
Area 1. Online and hybrid learning experiences, both open and credit bearing
Area 2. Educational technology tools to support online and residential learning
Area 3. Educational data and research
Faculty and staff (regular employees) on the UM-Ann Arbor campus, including Michigan Medicine, are eligible to submit proposals. The deadline is May 1, and decisions will be delivered on May 24. Final proposals should be submitted via email to aif-proposals@umich.edu.
Get help preparing your proposal
A set of office hours are also available for those who wish to workshop their ideas:
April 3, 2019 from 4–5 PM
April 12, 2019 from 2:30–4:30 PM
April 24, 2019 from 3–5 PM
If those times don't work, you can set up another time to meet with someone from Academic Innovation by emailing academicinnovation@umich.edu, using the subject line "Expanding Equity and Inclusivity Call for Proposals."