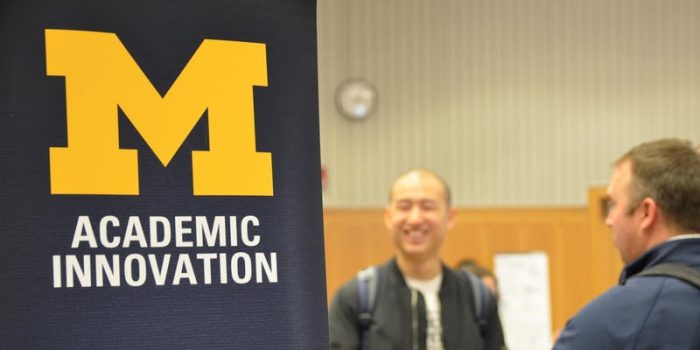 Join us Thursday, April 11 from 1:15 p.m. to 4:30 p.m. at Palmer Commons (100 Washtenaw Ave) for the Academic Innovation Student Showcase, where we will hear from the student fellows that drive innovation within our office.
The Academic Innovation Student Showcase is an opportunity for student fellows to share the projects they have been working on throughout their experience with the Office of Academic Innovation. Students will present their work in one of two formats: a series of 10-15 minute lightning talks in Forum Hall, followed by an interactive poster session in the Great Lakes room. All participating students will be available for questions during the poster session. See below for presentation and poster topics, schedule of events, and to reserve your spot!
Agenda (Subject to Change)
1:15 p.m. to 3:00 p.m. – Lightning Talk Presentations (Forum Hall, 4th Floor)
Presentations to include student fellows work within the following areas:
Academic Reporting Toolkit (ART) 2.0
Gradecraft
Michigan Online
Online Course Personas
Online Tools
Problem Roulette
Public Engagement
3:00 pm. to 4:30 p.m. Poster Session (Great Lakes Room, 4th Floor)
Posters to include student fellows work within the following areas:
Culturally Relevant Pedagogy
Gradecraft
Holistic View of Product Development
User Experience Design
Online Course Building
Success Metrics for Online Course Series
ViewPoint
Light refreshments will be offered during the poster session. U-M faculty, staff, and students as well as the general public are welcome to attend. For questions related to the Student Showcase, please contact academicinnovation@umich.edu.