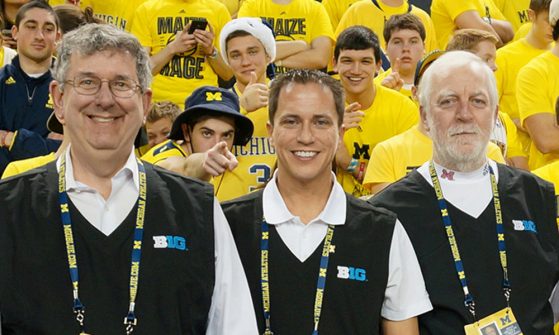 During the day, Sean Green serves as the manager of web services for LSA Technology Services. But after hours, he becomes a stats superstar for the U-M Men's Basketball Team. Here, he takes a brief time-out with Teri Horton, senior instructional consultant with LSA Technology Services, to discuss his work with LSA and "hoop dreams" for Michigan basketball.
Q: Can you share a little about your career at U-M and your role in LSA Technology Services?
A: I have worked for the University of Michigan for 22 years. My career has led me through five different units in the LSA Dean's Office: HR, Facilities, Advancement, Web Services and now Technology Services, where I am currently the Manager of Web Services. My focus is on managing the front-end elements of our applications, in particular training and support, new site consultations, special projects, and analytics. Twenty-two years ago, we had a web team of one or two people, but we have evolved into a full web services team that supports all LSA unit websites, in addition to many Faculty, Lab and Research (FLR) sites.
One of our biggest projects right now is a new digital experience for students that will help them get the most out of their time here at LSA by encouraging reflection and exploration and providing them personalized content aligned to their interests. In addition to helping students connect with on campus people and resources, it will also serve as a channel to explore opportunities and relationships with alumni and recruiters.
Q: What brought you to the University of Michigan?
A: I'm what you'd call an Ann Arbor "townie." I was raised in Ann Arbor, attended Pioneer High School, and graduated from the University of Michigan in Ann Arbor. I still live here with my wife of nine years and two kids, ages four and six. I stayed because the University of Michigan is a great place to work, with great benefits and great people. Ann Arbor is a great place to raise a family.
Q: People may not know about your affiliation with the Michigan Wolverines men's basketball team. Tell us what you do.
A: I keep official statistics and run the stats computer for all the home University of Michigan men's basketball games. We keep track of all the stats for the game including made and missed shots, rebounds, assists, turnovers, steals, fouls, shot location, substitutions, etc. The stats are sent out from my computer to media and fans every few seconds.
Q: How did you become involved?
A: I've been working with the team since I was 10. My dad kept play-by-play for the team when I started then he transitioned to clock operator. This was back then we used a manual typewriter and a mimeograph machine. The statistics were all hand-written, and I would pass those stat sheets out and do anything else that was needed at the games. I sometimes didn't even have a seat at the game, so I would sit in the aisle, an empty seat, or behind the bench. By the time I was in college they moved to a computerized system and needed someone comfortable with the technology. I was ready.
Q: How does the system work? Do you have to understand the game well and determine the statistics yourself?
A: Yes, you have to understand the game very well, but there is a statistics manual about how to interpret the plays. This year the NCAA began using new software from Genius Sports called LiveStats. I went to the Big Ten Headquarters in Chicago for training and overview. The first game when we used the software was an exhibition game—fortunately. The game moves fast and we had zero experience with a live game, so the person calling the game had to tell me things in a new order and I had to quickly adapt. It was a challenge! But now we are fluent in the software.
I work with a team and sometimes there are heated conversations. We use the time outs to compare notes and make sure we saw the same thing. It's important to get it right because we are creating the official NCAA record for the games played at Michigan. Players, coaches and media use stats for analysis, to understand what went right and wrong in a game, game planning vs opponents, player awards, as well as gauge future basketball potential beyond college.
Q: Where do you sit? What are the perks?
A: I sit center court in the second row—some of the best seats in the house. It's helpful since I need to see the game and who's doing what. The biggest perk is that I get to see the big games live. For example, I was working the table when the Fab Five were here and got to keep stats for some big names like Chris Webber and Jalen Rose. Many great teams and coaches have visited Crisler over the years. I get a pass to park close to Crisler Center and a meal before games. I also get to attend press conferences and have gotten to know coach Beilein, who is one of the greatest people I've ever met—a class act.
Q: Describe one of the best moments.
A: I grew up loving Michigan and all college basketball. One of my favorite moments was in 2013 when Michigan was tied with Michigan State in a sold out arena. Michigan State had the last shot with about 20 seconds left. Right in front of me, Trey Burke steals the ball from State and dunks it, and we end up winning. The fans were so loud I could not hear the person screaming next to me. Moments like that are great. This year the crowds are great—loud.
Q: Who are your favorite teams to watch?
A: Duke is a nemesis, but I have a lot of respect for them. Wisconsin always gives us a battle and we always know it will be a hard fought game. I'll admit, I do cheer heavily against Ohio State and Michigan State, though I have a lot of respect for coach Izzo at MSU.
Q: Any predictions for this year's finalists?
A: I always want Michigan to win—I pick with my heart. Right now we are ranked 9th in the NCAA. Elite Eight finish is my realistic prediction, though our last championship was in 1989, so we're due. I run a basketball pool, and I ask my team to join every year, so let me know if you want to participate. March Madness kicks off on March 17.
---
(This story was originally published by LSA Technology Services.)