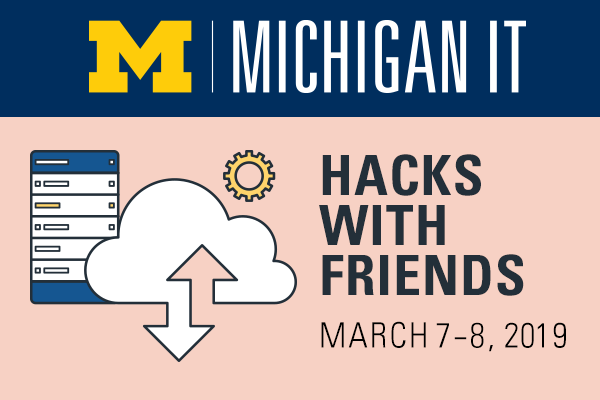 Hacks with Friends takes place Thursday, March 7, and Friday, March 8, 2019, at the Ross School of Business.
Hack with Friends (HWF) is this week! It's not too late to register to be a part of this energizing event. Be a part of this fun, two-day professional development opportunity. Break out of your normal routine, join a team, build a project (or hack), and show it off in a competition. Select one of the twenty pitches or "hacks" for this year's event and see where you want to contribute.
Sponsored by the U-M Office of the Vice President for IT and CIO, Hacks with Friends is open to all IT professionals who work at the university, regardless of role. Developers, analysts, UX, documentation specialists, designers, security specialists, trainers, desktop support specialists, project managers, or whoever else you are… We invite you to be a part of this "hackathon." Pick up new skills, make new connections, and explore new technologies and innovative ways of providing IT services.
New this year: Vote by text for your favorite hack
Not participating in creating a hack? You are still invited to vote for the best hack on Friday, March 8, at 12:30 p.m., following the three-minute team presentations. Join us live in the Robertson Auditorium at the Ross School of Business or via live stream, register to vote, and text in your top three picks when voting opens. This will be the first reveal of what each team has created and will determine the top four teams who will go on to face our judges in the finals at 2:30 p.m.

You must register your cell phone number by 1 p.m., Friday, March 8, to be eligible to vote. Voters can recast their votes to cancel out previous votes.