---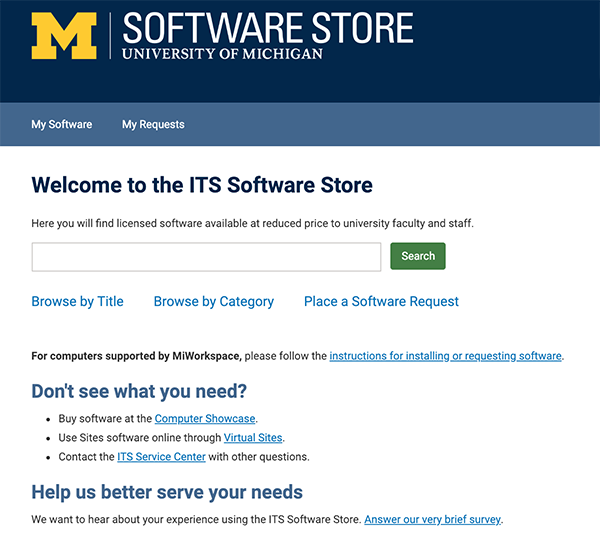 ---
On Monday, February 4, Information and Technology Services (ITS) Software Services rolled out a new way for University of Michigan faculty and staff to purchase software licenses.
The ITS Software Store replaces the previous Software Licensing & Distribution (SWLD) as the place for U-M individuals and departments to purchase individual licenses for select software titles from Microsoft, Adobe, IBM, and others.

The new software store offers many advanced features to improve the customer experience. These features include:
Request fulfillment automation — Faster delivery of purchased software
Order history — Online record of all your software purchased through the store
Automated renewal reminders — Proactive notification of upcoming license expirations
Automated SUB processing — Shorter time to transactions appearing on SOAs
Shibboleth integration — Convenient access to the store with your uniqname and UMICH (Level-1) password
The previous SWLD webpage and any links to specific SWLD product pages will redirect to the new ITS Software Store. Please help others update their bookmarks.

Future features

New features and adjustments to the user experience will be added based on feedback. Some future enhancements include:
More software titles
Opt-in approvals for fiscal approvers
On-demand reporting for budget planning
If you use the store, share your experience with ITS by filling out a brief survey. The link is also on the Software Store site.