The U-M Center for Educational Outreach (CEO) supports and advances the university's commitment to educational outreach and academic excellence with a focus on creating a college-going culture in youth across the state of Michigan.
As this commitment has grown, so too have the number and variety of pre-college K-12 programs and opportunities offered by schools and colleges, departments, centers and institutes, and student organizations. The result is a powerful but complex landscape of opportunities for parents, guardians, educators, and youth to navigate.
Enter Youth Hub, an interactive marketplace that highlights summer opportunities, which community organizations have described as a game changer for the youth, families, and schools they serve.
---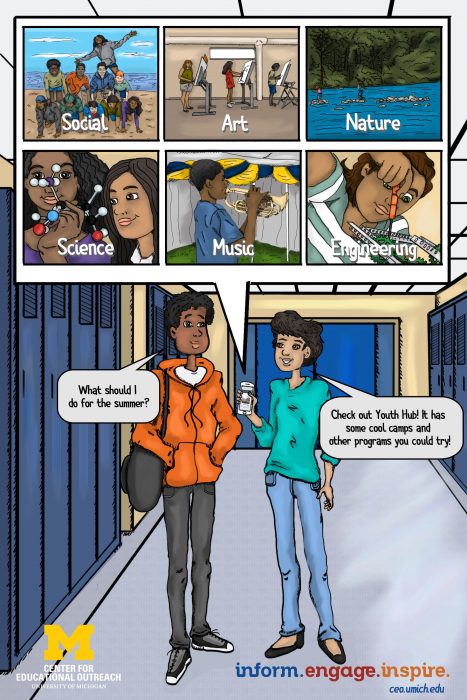 ---
How Youth Hub began
Three years ago, the university's educational outreach community identified the need for a single place on the web where parents, educators, and students could explore all opportunities available to support student success and college and career readiness. To be successful, CEO's campus partners needed a solution to create a dynamic and engaging experience that would not just make information about opportunities easier to find, but would also keep people coming back to find the next opportunity.

After an extensive review of solutions, CEO partnered with InfoReady. Powered by InfoReady Scale, CEO launched Youth Hub at the beginning of 2018, showcasing over 40 summer opportunities in an interactive marketplace.
Making a difference
The solution that powers Youth Hub, offered by InfoReady, has been well received:
Community organizations described Youth Hub as "a game changer" for the youth, families, and schools they serve.
Families shared their thanks—they no longer have to spend hours searching the web or digging through various university websites.
InfoReady Scale's workflow engine has been used to accept and review applications for admission by five summer programs.
By pointing to Youth Hub in their advertising campaigns, program managers can create effective cross-promotion of all opportunities across campus.
Some programs report positive changes in the geographic diversity of participants. Youth Hub has started to expand the reach of the university.

Presidential recognition
U-M President Schlissel recognized CEO with his Staff Innovation Award last spring. CEO continues to work with campus partners to expand the breadth of opportunities showcased on Youth Hub and drive engagement with its visitors.
Contact
Youth Hub is a free service for U-M. To learn more about how to get a program onto Youth Hub, contact umceo@umich.edu for a free consultation.