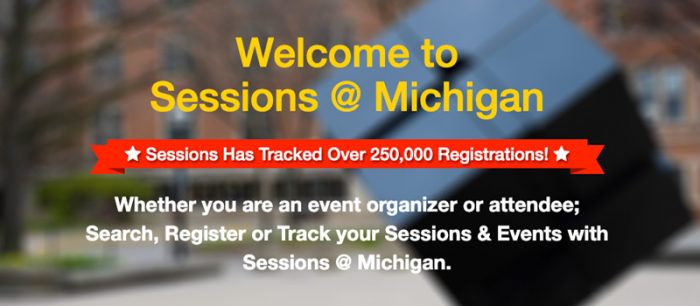 Sessions @ Michigan, the registration and attendance tracking system developed by Student Life, has reached a milestone: over 250,000 combined registrations and attendances logged to the system.
The application is free for the campus community to use. Units across campus including Student Life, LSA, Engineering, and Rackham have found Sessions to be a valuable tool to organize their co-curricular events on campus, and collect metrics on attendee response and participation.
The web application launched in fall 2015 for Student Life's First Year Experience initiative. After comparing features and costs for several vendor products, it was decided that developing in-house would be the best solution to accommodate the needs of Student Life and U-M for their event management needs. This year the system peaked at over 100 different ongoing events available for registration.
Sessions offers robust event management features, including:
Automatic waitlist management
Built-in communication with registered and attended users
Follow-up surveys that can collect information from attendees
Attendance can also be collected by scanning Mcards with a barcode reader or setting up kiosks where users can simply select their name on a touchscreen.
Development is ongoing
Further development of Sessions continues with many enhancements to the application. Recently released updates offer exciting new features, such as direct integration with Google Drive when exporting your data from the system and the ability for users to check themselves into events using a QR-code and their mobile phone.
Training & support
If you are interested in bringing Sessions @ Michigan to your department or school, please contact Student Life Technology Solutions. Training sessions are regularly offered to give an overview of the features and capabilities of the system. Registration is open for the February Training Session.