Information and Technology Services (ITS) continues to work with BlueJeans Network to deliver industry-leading videoconferencing, content sharing, and real-time video to campus.
BlueJeans is U-M's preferred conferencing service and is available today at no extra cost to your unit.
Two new versions of the desktop app were recently released on MiWorkspace-supported devices, bringing the current version up to 2.10. Here's a summary of changes.
What's new 🎉
Private Chat (2.10) — Direct Messages allow you to chat one-on-one during a meeting, instead of with everyone.

Room Pairing (2.9) — Easily join videoconference rooms into meetings and use the app as a remote.

Moderator Video mute on entry (2.9) — Set meetings to have video turned off for participants.

Moderator Pinning Support

(2.9) —

Choose a participant you want to stay on screen.

Moderator Layout Controls

(2.9) —

Choose the layout you want all participants to receive.
Note: An international calling feature is not available to U-M users.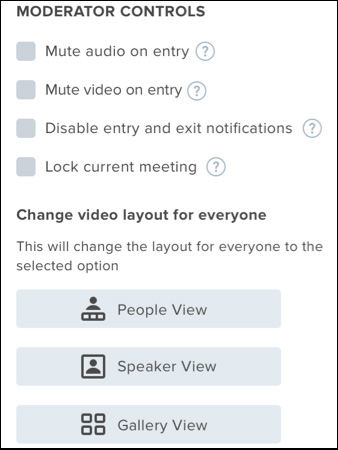 What's improved 🎁
The "Turn off Camera" setting will now apply every time you return to the dashboard (2.10).

Improved performance by freeing up disk space (2.9).
What's fixed🐛
Resolved an issue where background updates were not working (2.10).

Outlook meetings would disappear from the dashboard (2.9).
What's coming soon
In the first quarter of 2019, a video upload capability will allow YouTube video playback through the screen share feature.
How to get started
Register for an account at umich.bluejeans.com and click Login.
Install the software

If you are using a MiWorkspace-enabled machine, visit the MWS Software Center to install BlueJeans. Instructions for Windows users and Mac users.
On your personal device, visit bluejeans.com/downloads. Click download, open the installer, and follow the prompts.
Michigan Medicine users will have the updated software installed automatically on their managed devices.

Log in with the U-M BlueJeans account you created in step 1.
Note: BlueJeans requires special permissions with macOS Mojave. Learn more.
Looking for training or support? For information about training resources, email HDVideoconferencing@umich.edu. For support, contact the ITS Service Center. Units that are outside of the scope of ITS, or that need classroom BlueJeans support, should contact their local units. Michigan Medicine users should contact help.medicine.umich.edu (Level 2 needed) or 6-8000.
For large-scale events
A separate app is available for large meetings, called BlueJeans Events. Visit bluejeans.com/downloads and scroll down to Tools. Participants can also simply join BlueJeans Events from a web browser. BlueJeans Events provide a more controlled environment in which moderators can mute or promote presenters and stream to thousands of passive viewers.