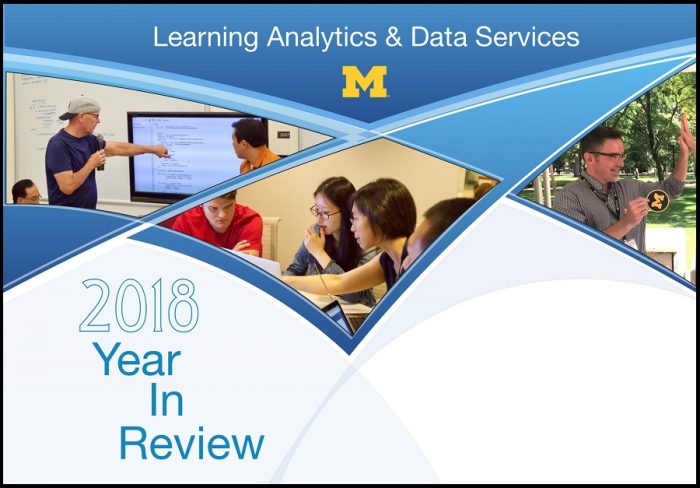 The ITS Learning Analytics & Data Services team is happy to share its year-end report (PDF) with the Michigan IT Community. LAADS achieved several milestones in 2018:
Delivered the initial phase of the Unizin Data Platform
Piloted My Learning Analytics in collaboration with faculty from the School of Information and School of Education
Data Concierge services fulfilled 15 data requests to support research and course design, much of it aimed at improving student outcomes
Hosted several peer institutions – as well as developers from Google – to convene the first-ever Unizin Data Platform Hackathon
Through these and many other activities, U-M continues to demonstrate its leadership in the field of learning analytics research, tool development, and learning data infrastructure with the goal of extending U-M's use of data-informed teaching and learning.
Looking towards the 2019-2020 academic year, LAADS has several ambitious initiatives, including continued development of the Caliper learning analytics specification and the Unizin Data Platform. The ITS Teaching and Learning team will also examine ways to use machine learning and natural language processing to provide enhanced experiences for its users.