Starting earlier this year, UM-Flint ITS began planning and preparation for the campus's upcoming transition to Google G Suite for Education. This will replace Microsoft Exchange/Outlook email and calendar services, and provide access to numerous additional applications. In the past few weeks, all staff members in ITS have transitioned to the Google platform to act as a test group to help prepare for the rest of the campus transition. Going forward into the winter semester, ITS will be working with departments individually to move them over to the new platform. ITS plans to have a majority of campus transitioned for the start of the fall 2019 semester. For more information on this transition, please visit google.umflint.edu
Why Google?
The decision to transition all three U-M campuses to Google services was made by executive leadership in Ann Arbor in order to reduce costs, increase collaboration, and advance technology. The Ann Arbor campus completed their transition to Google Gmail and Calendar in 2012, with the Dearborn campus following their lead in 2014. To maximize the utility of the capital investment previously made in technology equipment, the Flint campus elected to wait until now to make the transition. Flint ITS has observed the successful implementation of Google services on the other campuses, and a number of positive aspects have been identified prompting the move to the Google platform:
Collaboration:

Google will help make it easier for our faculty and students to do their research and learning together and with colleagues around the world.

Innovation:

Google provides a platform that we can extend and enhance.

Common Tools:

Having a standard tool set available to the entire university, will make it easier to perform routine activities that support our mission.

Access:

Google is a "cloud-based" solution that is designed to be accessed from different devices and different locations.

Savings:

Google will allow us to reduce our costs by approximately $200,000 at the same time we provide state-of-the-art tools.
Project plan and timeline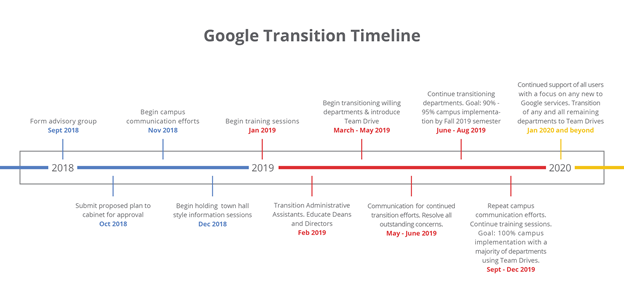 The project plan focus is on staff and faculty. Many students are already very comfortable with Gmail and other Google services and will be assisted by Flint ITS to self-transition. The Ann Arbor campus used this same strategy successfully. A comprehensive timeline is shown below, and relies on the following strategic tools:
Communication:

It will be crucial to inform campus of this transition via emails and town hall events. Key points will include the transition plan, and the benefits of Google services. Support from Ann Arbor and Dearborn ITS staff will be utilized where beneficial.

Training:

Training for all users will be important, and a multi-prong approach will be used by the Flint ITS training team. A strong initial focus will be to provide in-depth training for administrative assistants so they can in turn provide strong internal unit support.

Support:

All users will receive support via in-person training, web-based resources, and Helpdesk assistance, all to help ensure a successful transition. A key part of this support will be the "Google Guide" program, which will give UM-Flint students the opportunity to provide broad support across campus to help users and units better understand how to use Google services.

Key Technical Strategies:

A strong advantage to following successful implementations on the Ann Arbor and Dearborn campuses is the opportunity to benefit from lessons learned. The strongest points of advice received from these implementations are to leverage MCommunity groups to control access, to use the authentication portal provided by UM-Ann Arbor ITS, and to embrace the greater University of Michigan community by primarily utilizing @umich.edu email addresses.