Military training prepares veterans for a career in IT by requiring technical proficiency, while teaching about teamwork, tenacity, leadership, and more. Veterans' diverse backgrounds and knowledge demonstrate attention to detail, perseverance, and vibrancy focused on creating brighter futures at the University of Michigan.
This Veterans Day, November 11, 2018, we are especially thankful for their service, and are appreciative of their efforts that contributed to U-M's rank among best colleges and universities for veterans.
Below are profiles of 14 veterans from across the university who bring a wealth of knowledge to the IT industry. They share where they were and what they're doing now, and how their time in the service influenced the jobs they do today.
Learn more about activities happening at U-M during Veterans Week, November 5-9, 2018.
Read the full article with more than 30 interviews on the HITS website.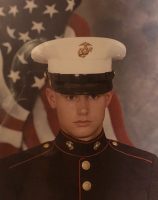 Timothy Ahlgren, U.S. Marine Corps, LSA
I served in the U.S. Marine Corps from 1983-1992 as an admin clerk. Although, I should point out, that I had a SSgt who saw that I had a knack for computers. He taught me a 'little of this and a little of that,' and before I knew it, I was one of three supporting the computers in the Department (Reserve Affairs Division). So all of my computer knowledge/skills started with the Marine Corps and I have been self-taught since. I was stationed for the first two years at the Headquarters of the Marine Corps, then spent the next two years in Okinawa, Japan, at Camp Kinser, and the last four years at Quantico, Va., working with Military Police. I very much carry the Marine Corps with me in a lot of things I do today. My attention to detail, friendliness, and 'can do' attitude come from my NCO Leadership school that I attended at Quantico.
Now I am a senior desktop support specialist, and when it comes to customer service, my attitude is "how do we get to yes?" When a faculty member comes to you with an off-the-wall question about something they want to do for research, I will engage with them more, learn what they are trying to do, then figure out how we can make it work in our environment – 'how do we get to yes?'
I know a few people from "back in the day" at U-M. A few years ago, I learned that the Navy/Marine Corps ROTC – for the (combined) Navy/Marine Corps Birthday, would run laps around DIAG. They run one lap for each year of their birthday, since the Navy and the Marine Corps are the same "age."  They start this a few days before the Navy birthday on October 13, and they run in shifts, 24 hours a day until ending on the morning of their birthday with a formation run of the last three miles. This year there will be 243 laps! I'm planning to bring my running gear and run with them for four to six miles. Then I will join them for their 0600 formation run while wearing my Marine Corps kilt. Last year, I got to call cadence for a short bit as well. It's so much fun!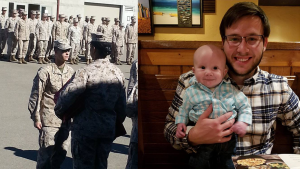 Klint Avant, U.S. Marine Corps, U-M alum, U.S. Department of Defense
From 2010-2015 I served in the Marine Corps at Camp Pendleton in California. I was a special intelligence system administrator, working in a 24/7 Network Operations Center supporting forward deployed Marines in Afghanistan and Iraq from back here in the states. Without having been in the military and gotten the skills and clearance that I did, there is no chance I would be where I'm at today, working as an application engineer with the U.S. Department of Defense.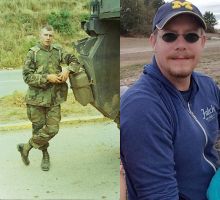 James Bergman, U.S. Army, ITS
The U.S. Army took me to Baumholder, Germany, Bosnia-Herzegovina, and Kosovo, and I served as a lift and load equipment operator and a fire support specialist. I find that the drive and attention to detail aspects of military are good building blocks for working at U-M as a data center technical analyst. The military teaches you to work in a team always and seek the best outcomes for the unit. This has allowed me to work to better the missions of the university, while maintaining understanding that no one is more important than the team. I appreciate how the University of Michigan embraces and celebrates the men and women who have served.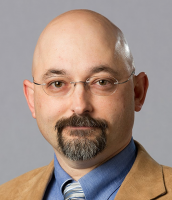 Jeff Castle, U.S. Army, ITS
I was a microwave operator and repairer for the U.S. Army Signal Corps, and served in Fort Jackson, S.C.; Fort Gordon, Ga.; Camp Humphreys, South Korea; and Fort Huachuca, Ariz. My family could not afford to send me to college, even with financial aid, so I turned to the U.S. Army for "high tech" training. The microwave systems repairmen training I obtained through the military provided me a very strong foundation in understanding information technologies and how to support and repair them. I still rely on those skills today in my position as an IT project senior manager.
The U.S. Army also provided me the opportunity to learn a disciplined approach troubleshooting problems which extends beyond technology and into everyday life. My time with the U.S. Army has made me a very tenacious person, which serves me well in my current role as a project manager with Information and Technology Services (ITS). I always see risks and issues in my projects as solvable challenges for teams to work through. I learned in the U.S. Army there is nothing a team of motivated people cannot overcome.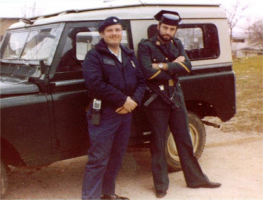 Dwight Hunt, U.S. Air Force, MHealthy
I was in the U.S. Air Force from 1979 to 1985, stationed at the Torrijon Air Base in Spain and Wallace Air Station in the Philippines. I enjoyed my time in the military, especially in Spain; it was the best time of my life. I began computer systems self-study in 1983 and got my first computer August 1984. In this photo taken in Spain, I'm on the left standing next to my friend, a Guardia Civil officer.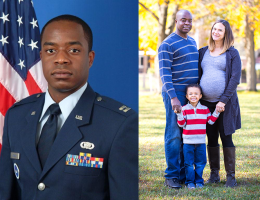 Jermaine "JD" Jordan, U.S. Air Force, HITS
I was commissioned an officer in the U.S. Air Force in 2003, and served on active duty until December 2010. My primary role was to lead IT professionals to contribute to the Air Force's mission to fly, fight, and win in air, space, and cyberspace. I served as a student pilot, IT maintenance crew commander, network administration team lead, Wing executive officer, IT officer training instructor, and device support manager. I was stationed and deployed to the following locations: Biloxi and Columbus, Mississippi; Ramstein, Germany; Guantanamo Bay, Cuba; and Jeddah, Saudi Arabia. After seven years of service, I finished my military career at the rank of Captain.
My service gave me a strong work ethic, courage to speak truth to power, and a keen understanding of the importance of charismatic, engaged, and effective leaders in organizations. I use this every day in my role as a systems integration analyst at HITS.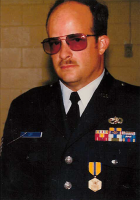 Mark Ley, U.S. Air Force (Retired), HITS
From 1976 to 1996, I served in the U.S. Air Force and worked as a turbojet/turboshaft engine technician. I was stationed at 1550th ARRS, Kirtland Air Force Base, N.M.; 54th WRS, Andersen Air Force Base, Guam; and 1st SOW AFSOC, Hurlburt Field, Fla.
My time in the military made me detail-oriented and prepared me for troubleshooting a variety of problems—perfect for my job as a desktop support agent.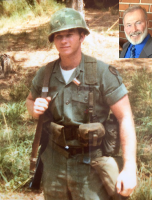 Ron Loveless, U.S. Army, Facilities and Operations Information Services
I am proud of my service as the GI Bill helped me get a college degree while serving my country. My family could not afford to send me to college. So I joined the Army in 1973, served three years of duty as a sergeant responsible for a team managing classified communications for RadioTeletype and Morse Code Operations, assigned to the 25th Infantry Division, 1/62 Air Defense Artillery Unit, Schofield Barracks Hawaii—I never saw combat, but our division was put on alert during the evacuation of Saigon in April, 1975.
Having completed a GED and 1.5 years of college while on active duty, I was then admitted to the University of Michigan in 1977, finally earning my BA degree in April 1979. I was a first-generation college grad, coming from a proud working class family. I paid all my tuition and expenses myself with no help from my parents.
Back in the 1970s as a student veteran, I did not feel comfortable admitting I was a veteran. In fact, I concealed that I was a veteran. Due to the immense unpopularity of the Vietnam War, veterans bore the brunt of abuse and disdain from the public rather than praise for their service as is the case today. That really hurt back then, but I am glad times have changed. My time in the military has helped me on multiple fronts, including leadership skills, organization, discipline, and the basics of electronics and keyboarding.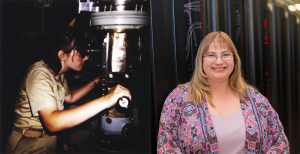 Jennie Miller, U.S. Navy, HITS
From 1995 to 2000, I served in the U.S. Navy. My rank was a Petty Officer Third Class, Electronics Technician (Nuclear Field), Reactor Operator. I received a scholarship to earn my bachelor's degree at the University of Michigan, and served as a Midshipman as part of the Reserve Officer Training Corps (ROTC) program (during a summer cruise, I helped set up satellite networking and Outlook on the USS Carl Vinson, CVN 70—they almost didn't let me return to U-M!).
My time in the military has been quite impactful on the job I do today for HITS: end user computing specialist/Service Desk team lead. My experience has led me to be extremely comfortable troubleshooting and fixing various complex technologies, to be neat and methodical in my processes, to report any issues as soon as they are discovered before they become larger problems, to take responsibility for my actions, and be accountable for my work and those for whom I am responsible.
I learned a lot of nuclear and electrical engineering theory, higher order math and physics, and thermodynamics, as well as the practical applications of these theories in real-world settings. It gave me a great base to understand the various departments and operations within HITS. I also gained a lot of experience in leadership and disaster response.
I use these skills and more in my daily work functioning as a team lead for the Service Desk, which includes end-user support, troubleshooting, and facilitation of major incidents. The military was a great teacher of the value of teamwork, professionalism, and being open to differing viewpoints. You learned to keep an eye on the big picture strategic mission and goals, while coming up with creative solutions to sudden obstacles.
Attention to detail was just as important as the mile-high understanding of the situation, and being able to hold both perspectives in tension and operate in that middle is where true success is achieved. We have a fantastic department here in HITS and there are so many opportunities for us to learn from each other's strengths and perspective to truly excel and grow.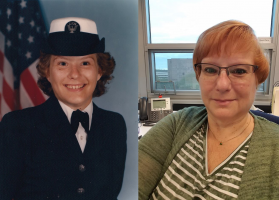 Sherri Perry, U.S. Navy, Registrar's Office
From 1981-1985 I served in the U.S. Navy, first stationed at Naval Weapons Station in Concord, Calif. Later, I was transferred to the USS Dixon (AS-37), and finally to Naval Air Station in Coronado, Calif. While in Concord, I worked in Service Craft, manning tug boats. We would bring in the weapons ships for restocking of munitions of all sorts. On the USS Dixon, I was a Quartermaster 2nd Class (Navigation, not supply). When I was transferred to Naval Air Station Coronado, I worked security at the front desk.
While my military service may not have directly translated to my current position of degree audit specialist, the training and attitude for living life that I learned while in the military has carried me through my civilian life and served me well. I learned a work ethic that has helped make me a valuable member of my current team. And so often I feel my military background in my everyday life. I wouldn't change that service or those memories for anything. It's an integral part of who and what I am now.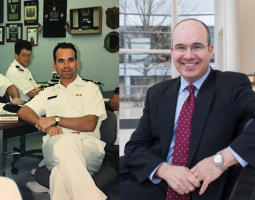 Andrew Rosenberg, M.D., U.S. Navy, CIO—Michigan Medicine
I was an U.S. Navy doctor and started as a lieutenant and ended as lieutenant commander, U.S. Navy Reserve from 1994 to 2002 (first in active and then inactive reserve). I joined the military after Medicine Residency and during my Anesthesiology Residency. I was in the Reserve Unit based in Baltimore, Md., and then Bethesda Naval Hospital during and after my Critical Care Fellowship.
I went through Officer Indoctrination but not Officer Candidate School (OCS); a very different experience than what the line officers had to go through. I told them, "I did two residencies!" They told me OCS was harder. We agreed to leave it at that!
I worked as a doctor with various U.S. Marine Corps units at Camp Pendleton in California and Camp Quantico in Virginia. Some of the work was designing and setting up mobile field surgical staging capabilities (echelon 2). My experiences reinforced value of service, team work, and esprit d'corps working with mission-driven men and women. Apparently, the Baltimore Naval Officer recruiter had not before had a board certified physician working on further medical specialties walk into their office, sign up, and not take any additional stipend. I just told them this was something I wanted to do since I was a kid and didn't need anything else. Frankly, I did very little relative to most veterans, and wished I had a chance to have done more. It sounds cliché, but one really does feel a sense of honor to work among marines and sailors working in these capacities.
My current work in academic health IT as the chief information officer has many aspects of what I experience during my brief time in the military.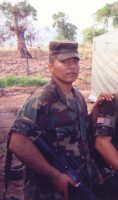 Jake Salazar, U.S. Army, School of Education
I was an infantry squad leader in the U.S. Army from 1993 to 1997, stationed in Fort Drum, N.Y., 10th Mountain Division. I also spent time in Bosnia-Herzegovina, Egypt, Haiti, Panama, and Somalia. Serving in the infantry provides some long term perspectives useful for navigating life as a civilian. The concepts of teamwork, mission first, task standards, standard operating procedures, and good soldier translates well to being a great employee. Everyday that I have been out of the U.S. Army and out of the Infantry has been the easiest day of my life.
As a country, we generally do well to honor our veterans but I think we should do better. I believe serving your country is difficult. The standards are high and the consequences are monumental. If you perform poorly in a regular job, worst case scenario, you get fired. If you perform poorly in the military, worst case scenario, somebody dies or you get discharged dishonorably. Death is self-explanatory. Getting a dishonorable discharge stays with an individual the rest of their life, which makes life as a civilian more difficult. The rules are thick, hard, fast, and enforced. You are constantly reminded of this. Joining the military is an enormous decision. Simply completing the basic military requirements, training, and physical fitness are a huge hurdle. It is a tremendous responsibility to be held accountable by the most powerful country in the world. You don't fully appreciate what your doing until you are exposed to the bigger picture and what role you play.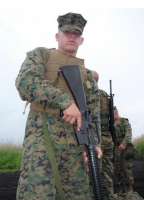 Sean Sivils, U.S. Marine Corps, HITS
I served in the U.S. Marine Corps from 2005 to 2010, and I was stationed in Japan, South Korea, Iraq, and Camp Pendleton in California. I worked in IT in the military, and system administration, building servers, workstations, satellite transmission equipment, and setup technology for deployment.
My time in the military impacted the job I do today because it taught me about interacting with people. I learned a lot about social graces in the Marine Corps, including common courtesies, which forced me to be confident, especially in my technical skills which are similar to my current role of supervisor of the Medical Center Device Support team at HITS.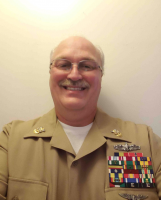 Jeff Wilkins, U.S. Navy, HITS
I served in the U.S. Navy from 1984 to 2006 as a hospital corpsman/medic and Senior Enlisted Advisor aboard Naval Medical Clinic, Marine Corps Base Quantico, Va. I was stationed on the USS Saratoga, USS LaSalle, USS Cole, as well as Commander Sixth Fleet. I spent a great deal of my time in the U.S. Navy at sea, and learned vital lessons in getting things done.
I earned my Surface Warfare and Air Warfare designations along with several awards: Navy Marine Corps Medal for Heroism, Bronze Star Combat V, and Air Medal Combat V.
All of this experience has matured me, improved my decision-making skills, and helped me be a better leader. You learn to think on your feet and fast when the bullets are flying. It prepares you for any situation life or work can throw your way. Healthcare was going to be the area I continued to work in after I retired, and I was lucky enough to be on the initial teams moving the U.S. Navy to computerized health records. It taught me many of the technical skills I use today as a senior desktop support specialist.